A photo of gorillas posing with park rangers in DR Congo has spread around the world.
Orphaned gorillas Ndakazi and Ndeze are seen standing upright alongside caretakers Mathieu and Patrick inside the Senkwekwe centre at Virunga National Park.
The gorillas have lived in the sanctuary since infancy.
In a Facebook post, the park said it had received lots of messages about the selfie.
"YES, it's real! Those gorilla gals are always acting cheeky so this was the perfect shot of their true personalities!
"Also, it's no surprise to see these girls on their two feet either - most primates are comfortable walking upright (bipedalism) for short bursts of time."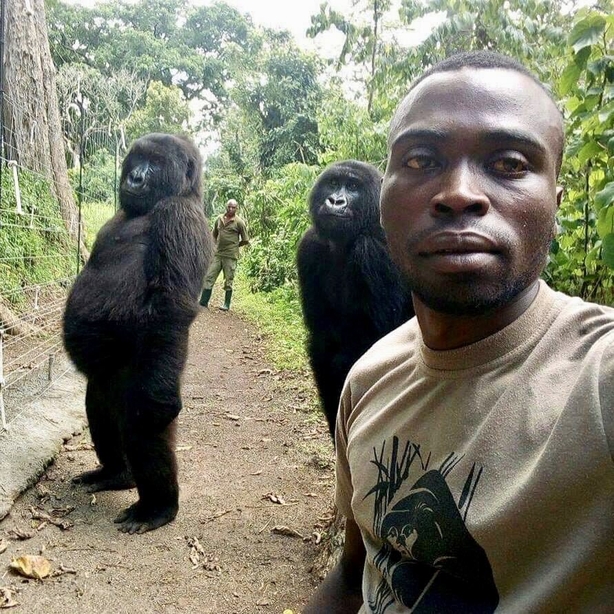 The park is a UNESCO World Heritage Site in eastern DR Congo.
Virunga National Park described the area as being deeply impacted by the effects of war and conflict, and said its 600 rangers risk their lives each day to protect the park's wildlife.
The park said this photo was taken in exceptional circumstances and warned that it is never permitted to approach a gorilla in the wild.
"These gorillas are in an enclosed sanctuary for orphans to which they have lived since infancy. The caretakers at Senkwekwe take great care to not put the health of the gorillas in danger."
The park was established almost 100 years ago primarily to protect mountain gorillas.