It's hard to believe when you meet him, but Dylan Nelson once struggled with self-confidence.
The 25-year-old from Crumlin in Dublin is now an ambassador for Sail Training Ireland - the charity which promotes the development of young people through voyages on the high seas.
Dylan wants other people, particularly those with disabilities, to transform their lives by getting involved with sailing - just like him.
Another person to gain from their participation in the scheme is 16-year-old David McDonagh from Ballymun in Dublin.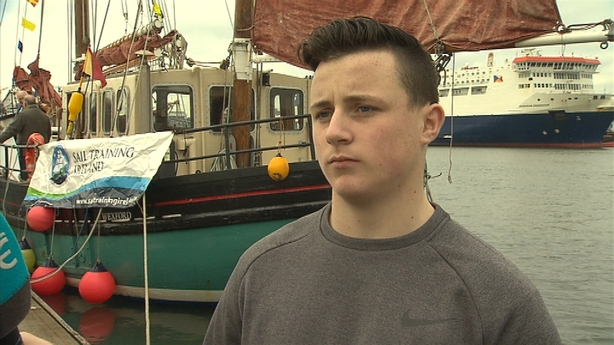 David, who hails from the Travelling Community, went on his first voyage last summer which he describes a "great experience".
The person who nominated him to join Sail Training Ireland was Liz Mulanny, the Public Health Nurse in Ballymun.
One of the vessels used by Sail Training Ireland is the Brian Boru, which is docked at the Poolbeg Yacht and Boat Club in Ringsend.
The owner of the Brian Boru, Michael Byrne, says young people learn an incredible amount about themselves, and their responsibilities to others, by spending five days on the water.
Minister for Defence Paul Kehoe said the Government wanted to invest in Sail Training Ireland because it enabled people socially disadvantaged backgrounds to have a life-changing experience.
Ireland used to have a national sail training vessel, called the Asgard II, but it sank in the Bay of Biscay in 2008.
Sail Training Ireland CEO Daragh Sheridan, warmly welcomed the Government's financial support.
However, he said the ultimate goal must be to replace the Asgard II.
The Government grant of €170,000 for Sail Training Ireland will run for two years.