A Limerick charity is preparing to open its first suicide prevention hub in Rathkeale.
The Community Crisis Response Team has been operating since 2016, travelling to anyone in distress during the night in Limerick city and county.
The personal story behind a new suicide prevention hub in Limerick #mentalhealth pic.twitter.com/M5dUfeyGLv

— RTÉ News (@rtenews) October 12, 2018
Until now the team of volunteers has operated via Facebook and a helpline number that operates from 5pm until 6am seven nights a week, 365 days a year.
In the two years since the team became operational, it has had 310 crisis interventions.
Friends Caitriona McMahon and Kayla Cooley set up the Community Crisis Response Team after Caitriona's own experiences with depression, anxiety and suicidal thoughts.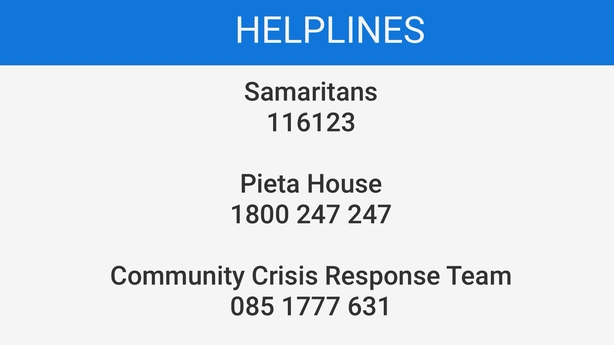 "There was one particular night, I had decided I had tried everything and I just didn't think it was going to get any better and I made a decision I couldn't do it anymore", says Caitriona.
That night Kayla noticed a change in her friend Caitriona. "She had made a blasé comment, just off the cuff. I had asked her a question and she said, 'it doesn't matter anymore anyway' and so I asked her was she talking about suicide", says Kayla.
"I had to say out loud I'm thinking of ending my own life. It was the hardest sentence I have ever had to say but it was the one that changed my life because from that moment on I was able to access treatment. It doesn't happen overnight to go from having thoughts of suicide to having none. It took communication, it took the therapist working on me and the support network around me", says Caitriona.
After treatment and reflection on what happened that night, Caitriona and Kayla received education in suicide alertness and suicide intervention from the HSE. In February 2016, they founded the Community Crisis Response Team.
"I was thinking I never want to be in this situation again where a friend or family member tells me they are suicidal and Kayla the great fixer doesn't know what to do", says Kayla.
"If I hadn't been saved I wouldn't be here now and I wouldn't have found my purpose in life. You can come through this too just like me", says Caitriona.