As the world follows Croatia's World Cup journey, a local video highlighting fire safety during the tournament has lit up social media.
Zagreb Fire Department said there had been a number of fires "caused by pyrotechnics during the tournament".
A fire department spokesperson, speaking to Eurovision Social Newswire, said the video was created to highlight fire safety during the contest as part of the country's national fire safety campaign.
The video from inside a fire station has amassed over one million views on Facebook.
It shows firefighters watching Saturday's World Cup quarter final between Croatia and Russia. When the unit is called out for a dispatch, the men rush to get prepared and ready to leave, sirens blazing.
Shortly after, those who were able to stay behind are seen celebrating a goal for their country.
The team has since beaten England and now all eyes in Croatia are on Sunday's final.
Meanwhile, the Croatian cabinet showed its support for the national team by donning the country's red and white jerseys today.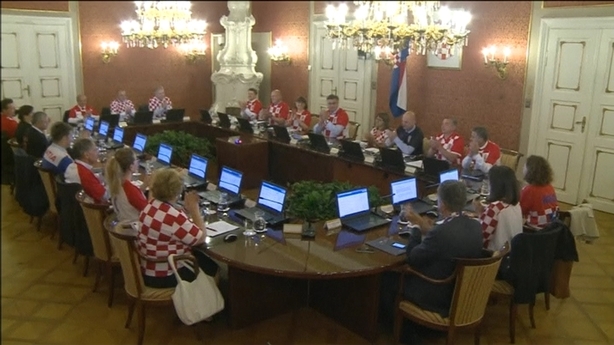 Croatian Prime Minister Andrej Plenkovic attended the semi-final game against England last night in Moscow where Croatia won 2-1 after extra time.
In the 1998 World Cup in France, Croatia won the third place after losing 2-1 against the hosts in the semi-final.
In Sunday's final in Moscow, Croatia will again face France.