Following Friday's referendum, which saw Ireland vote decisively to change the Constitution to repeal the Eighth Amendment, posters urging people to vote Yes or No on the proposition are still on display around the country.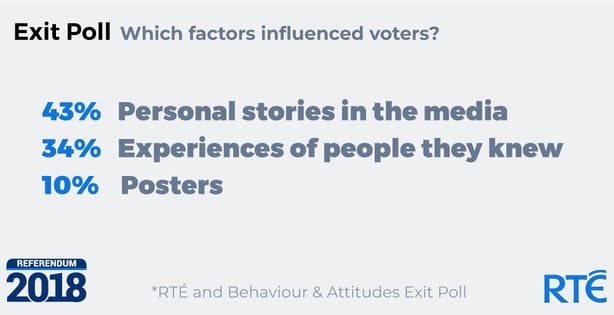 According to the RTÉ Exit poll, carried out by Behaviour and Attitudes, just 10% of voters say they were influenced by posters.
The Green Party's spokesperson for local government, Cllr Malcolm Noonan, has called for broad restrictions on where posters can be displayed.
He suggested that posters for elections and referendums be restricted to designated areas in large towns and cities, saying it would improve road safety and make towns more attractive.
But for now, here's a look at the rules on posters as things stand.
When should they come down?
The rules for election posters are covered in section 19 of the Litter Pollution Act 1997 and the Electoral (Amendment) (No. 2) Act 2009.
It stipulates that posters can go up no more than 30 days before an election, or, in the case of a referendum, not before the relevant minister signs the polling order determining the day of the vote.
In both instances, posters must be removed within seven days of polling day – so campaigners have until this Friday to take posters down.
What's the penalty?
Election or referendum posters put up too early or not taken down on time are subject to an on-the-spot litter fine of €150.
How do you know who put a poster up?
Posters must include the name and address of both the printer and the publisher. Failing to include this information on the face of a poster is an offence, punishable by a fine of up to €634.87 or imprisonment for up to three months, or both.
Are there restrictions on where posters can go?
Under the Road Traffic Act 1961, posters may not be erected if they obstruct a traffic sign, could be confused with a traffic sign, or obstruct road users' view of the road.
What about billboards?
Election messages on billboards are commercial advertising and are not covered by the same rules. Advertising can be bought at any time of year. Billboards are covered by planning regulations.
More information on the rules can be found on the Department of Communications, Climate Action and Environment website.