A lorry carrying 12 tonnes of liquid chocolate overturned on a motorway in Poland.
The spillage covered six lanes, blocking traffic in both directions.
Local police said it was unclear why the lorry hit the central reservation on highway A2 between the western towns of Wrzesnia and Slupca.
Passing vehicles left chocolate tyre marks across several kilometres before authorities closed down the road.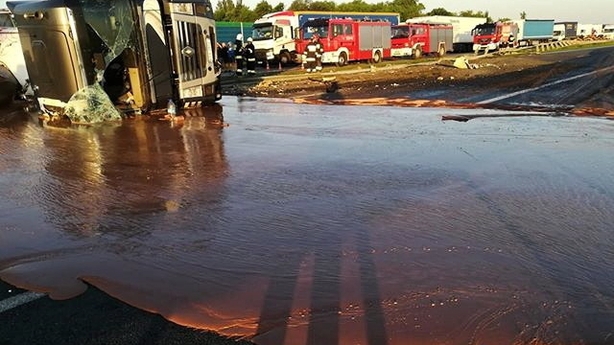 A cleaning crew armed with shovels, an excavator and hot water pressure washers have begun chipping away at the chocolate that turned rock solid in the open air.
"It will take several hours," local firefighter chief Bogdan Kowalski told TVN24 television.
"Once it hardens, chocolate's worse than snow."
The driver of the truck was hospitalised with a broken arm.