A pop-up shop in Dublin providing Communion outfits for free to families who need them will reopen again on Thursday.
Theresa Kelly from Raheny opened the shop at Edenmore Shopping Centre over the weekend, and has a range of donated Communion dresses, suits, shoes and accessories.
A pop-up shop offering Communion outfits for families who are struggling financially has opened in Dublin pic.twitter.com/4Dk3jh5Wtd

— RTÉ News (@rtenews) March 27, 2018
Many of them are brand new, and others are hardly worn.
"The whole idea behind the shop is to give families that are struggling, and families that are finding it hard to raise the cash, to give their children a special day," she explains.
"But I don't want people to feel it's charity. It's not. It's communities helping communities."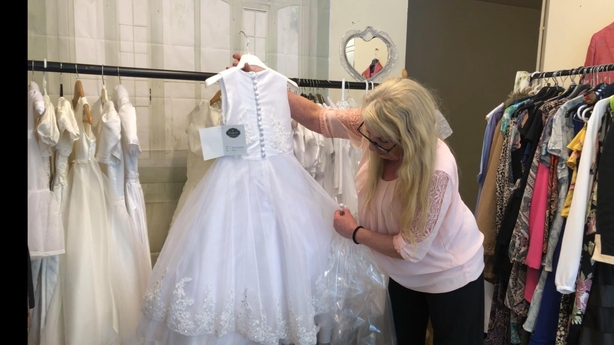 Ms Kelly was inspired to do something after she overheard a conversation between two young mothers, who were discussing their plans to borrow money in order to pay for their children's Communion day.
"I want them to come in and give their children the experience that every child should have for their Holy Communion, that they don't have to worry about money, they don't have to worry about anything other than coming in and dressing their child and seeing that child skipping out here with a smile on their face," she says.
She put up a post on Facebook, and soon began receiving donations. She then borrowed an empty unit at the shopping centre.
The items are free of charge, but parents can make a donation to Inner City Helping the Homeless if they wish to do so.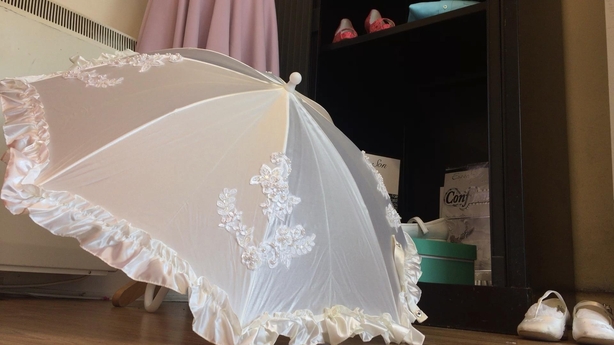 "What we do with the children to make it the same as every other shop, the children will go back in to take the clothes off them and then the Mammy or Daddy will say 'I'm going out to pay the lady for your stuff'.
"We have just a tin there and they say 'how much do we owe you?' and we say 'Nothing. If you want to donate to ICHH, you can do it,' and then we walk away.
"So it's up to them whether they do or not," she explains. "We actually walk away and then they can do it at their own discretion."
The shop will be open this Thursday and Friday, and next weekend from Friday to Sunday.
"The generosity of people has been overwhelming," she says.
"My hopes and the hopes of all the people that have come on board to help me with it is that it will actually take wings, and that other communities will start doing it, and it will alleviate the stress of all the families that do not have the money or can't - or have to go out and borrow the money, that it stops all of this, and that every child can have the ultimate communion experience without the stress of it."