Campaigners are calling for more fully accessible toilets in public places in Ireland.
A lack of these facilities means carers of people with disabilities often have to change their loved ones on bathroom floors, according to Inclusion Ireland, the National Association for People with an Intellectual Disability.
The campaign for more fully accessible 'Changing Places' toilets in public places in Ireland pic.twitter.com/wqwTJkaBUV

— RTÉ News (@rtenews) February 16, 2018
It wants to see more "changing places" in public places such as shopping centres, libraries and sporting arenas.
Changing places are different to standard accessible toilets.
They include a ceiling track hoist system, a height-adjustable, adult-sized changing bench, a privacy screen, a centrally located toilet with adequate space on both sides for the user and two assistants, wide paper roll, a large waste disposal bin and a washbasin.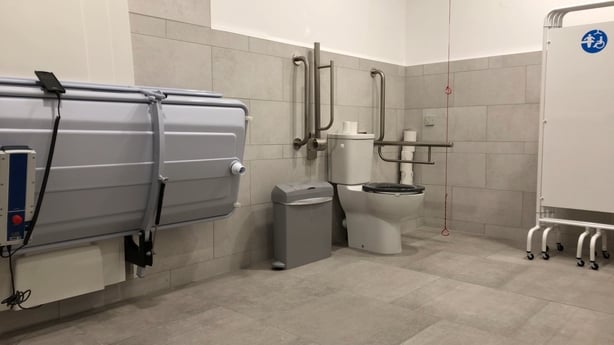 In the UK, there are more than 1,000 changing places toilets.
Inclusion Ireland says it has seven such facilities registered on its website, of which six are in Dublin.
It only registers facilities that meet a certain standard to ensure that they meet the user's needs and expectations.
Ann Healy and her daughter Ailis live in Co Wicklow. For them, planning a day out is not straightforward.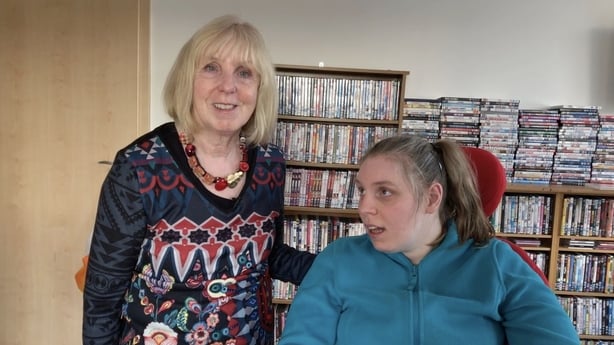 "I just accepted for 30 years that our lives would be limited by the fact that there are no toilet facilities with hoists out there," said Ms Healy.
"There are people who ordinary disabled toilets don't suit. They have extra needs which can be a hoist like what my daughter needs just to get from the wheelchair onto the toilet, or some people might need to adults changing bench."
She said it would make life much easier if there were more of these facilities around.
Aisling McNiffe and her 12-year-old son Jack live in Co Kildare. The availability of changing places facilities makes a big difference for them.
"If you can imagine not being able to take your child or any loved one out and access restaurants, cinema, swimming pool, whatever you like, it makes life very limited, and it can stop people going out at all," she said.
"I used to use the boot of my old car, but now I have an accessible vehicle, so it's a wheelchair-adapted vehicle, so I lost my boot.
"So I don't even have that little safe space that I could have in a crisis. So what I've ended up doing lately is unfortunately having to change him on the floor of a regular wheelchair bathroom, which isn't safe for me or for him. He's immunosuppressed, so he can pick up bugs and it's not suitable and it's not fair."
Fine Gael Cllr Vicki Casserly of South Dublin County Council is a carer for her son, and a member of the Changing Places Ireland working group.
She hopes to see more changing places facilities across the country.
"I'd like to see this roll out. I'd like to see everyone engage in it and understand why it's a necessity, not a wish list. This is something that has to be done."
In a statement, the Department of Housing, Planning and Local Government said Building owners and designers are encouraged "to have regard to the design philosophy of universal design and to consider making additional provisions, where practicable and appropriate".
"The whole thing is about inclusion and equality for all, so that's it in a nutshell," said Ms McNiffe.
"It's a shame in this day and age that people around the country would be isolated because of the lack of changing places facilities," said Ann Healy.
"Hopefully if there is more awareness, there could be changing places facilities rolled out around the country. That would be the hope for the future."