A Lebanese chef who ended up sleeping on the streets when he first arrived in Paris two decades ago has received his first Michelin star.
Alan Geaam began his career as a dishwasher while he was sleeping rough in a French park.
His acclaimed new restaurant is within a stone's throw of the Arc de Triomphe.
"I never thought the Michelin would be interested in someone like me, who was self-taught, who had to sleep in the street at 19 and who began as a dishwasher," he told AFP.
'The reason I cook is to make people happy.'
"I thought the guide was about chefs in big fancy hotels or those trained by the great masters. But it turned out to be the opposite. It's a wonderful surprise," said the 43-year-old.
Mr Geaam was born to Lebanese parents in Liberia, before they exchanged one war zone for another by returning to Beirut.
He started cooking while doing his national service in Lebanon, and the colonel of his regiment made him his personal chef.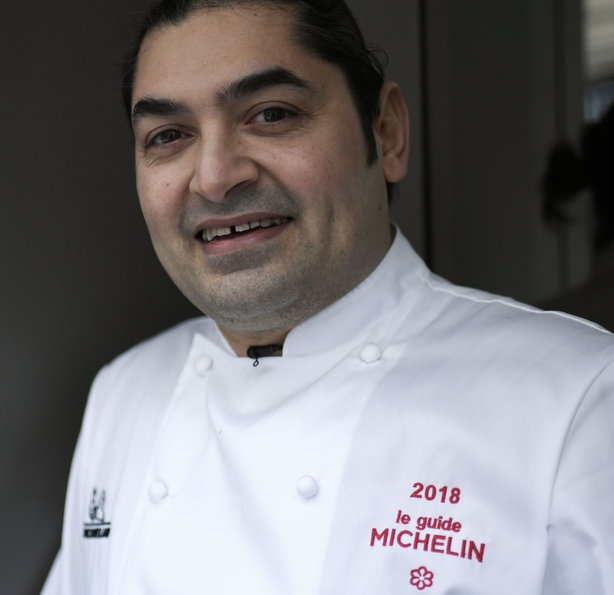 Mr Geaam got his break when the chef of the restaurant where he was washing the dishes was rushed to hospital when he cut his hand with a knife.
"I worked during the day as a construction worker and at night delivering pizzas and washing dishes. One night the cook cut his hand and had to go to hospital. No one asked me, but I just took over. There were 14 tables and so I just feed the customers and at the end of the night they were delighted.
"The owner said to me, 'But you can cook!' and I said, 'Yes'."
"The reason I cook is to make people happy," said Mr Geaam.
One of his favourite dishes is "an escalope of foie gras lacquered with pomegranate molasses served with a tartlette of beetroot and pomegranate.
"I ate a lot of pomegranates when I was a kid," he said. "I made juice with them, I made lots of reductions with them, and I loved putting this very Lebanese touch with something so French as foie gras."