The widow of a man who died during Storm Ophelia has called on the Government to issue clear guidelines to employers regarding Status Red weather alerts.
It is three weeks since Ophelia made landfall, claiming the lives of three people in Ireland.
Michael Pyke, 31, from Ardfinnan died while in the course of clearing a fallen tree in Co Tipperary.
Clare O'Neill, from Aglish, died when a tree fell on the car she was driving in Co Waterford.
Fintan Goss, a father-of-two from Ravensdale in Co Louth, died when a tree fell on his car as he drove home from work on the day of the storm.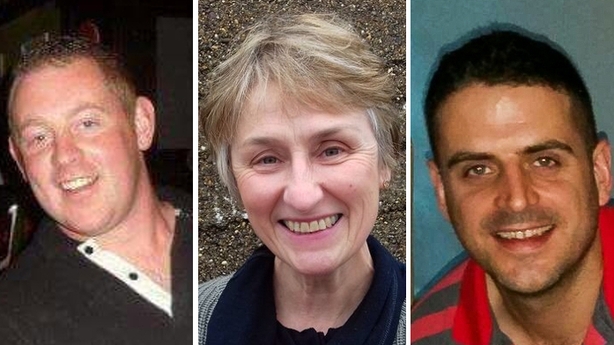 Mr Goss's widow, Pamela, has now written to the Oireachtas members for Louth calling for clear "stay at home" instructions during Status Red alerts.
Speaking to RTÉ's Morning Ireland, Ms Goss said she wrote the letter calling for there to be "no ambiguity" during red alerts.
She said: "There was a blanket closure on all of the schools, so that meant from the caretaker up to the principal nobody was in danger and nobody had to travel.
"But there was this utter confusion and ambiguity around staff and different levels of staff, and who should go and who should not go.
"I just think it should be a set of guidelines to be implemented automatically if there is a red warning status across the country – private and public sectors – and only have the roads open for the paramedics and fire services.
"Because at the end of the day, it is life and death.
"There are jobs that are crucial like the paramedics and the fire engines that ironically we needed that day. But other industries aren't life and death."
She called for everybody to be treated the same, so that "there's no sitting around looking at your phone waiting to hear, [wondering] should I go in, should I not. It's just: There's a red warning status, that means stay at home."
Ms Goss added: "I'm just frustrated at the minute to be honest, I haven't even really gone to anger yet, that something like this could happen in Ireland in this day and age, and that it is going to take three people to die to even get to a point where we should look at automatic implementation of X, Y and Z."
In a statement, the Department of Housing said it extended its condolences to the families and friends of the three people who lost their lives during Storm Ophelia last month.
It added that the response to Storm Ophelia was being reviewed.
"[A] report will be prepared which will be submitted to the Government Taskforce on Emergency Planning for its attention before being submitted for the approval of Government in January 2018", it said.
Minister of State at the Office of Public Works and Flood Relief, Kevin 'Boxer' Moran, referring to Mr Goss's death, said he was "deeply saddened" by the loss of life.
A memo is due before Cabinet in relation to the appropriate response to Red and Orange Alert weather warnings.
Mr Moran said consideration is also being given to how to manage hazardous conditions after storms when alerts were lifted.
Speaking as he turned the sod on the first phase of the €6 million Athlone Flood Alleviation Scheme in Co Westmeath today, Mr Moran said the issue had been raised at an emergency response meeting last Tuesday.
"I actually raised the whole focus in relation to Orange and Red Alert. We need to educate the people, no more than ourselves, because what is a Red Alert? Do you go out, do you not go out, who goes out?," he said.
"They are all things that are being discussed at present. I know when I left the meeting the other day it was high on the agenda to see how do we get that word out there to people of this country."