The Sam Maguire and the Liam MacCarthy cups were held aloft at the funeral mass in Glanmire, Co Cork of GAA star Teddy McCarthy.
The former Cork player is the only man to ever win All-Ireland senior hurling and football medals in the same season.
While he excelled as a sportsman and loved GAA, mourners were told that, prior to his death, Teddy dedicated most of his time to his "adored" grandchildren Joey and Tiernan.
Mr McCarthy passed away suddenly last Tuesday, just a month shy of his 58th birthday.
His sons Cian and Niall were among those who shouldered his coffin from the funeral home in Glanmire this morning to a hearse.
Hundreds of people then lined the route and clapped as the cortege travelled to nearby St Joseph's Church for his requiem mass.
His coffin was shouldered in to the church by famous Cork GAA names such as Larry Tompkins, Jimmy Barry Murphy, Billy Morgan, Dr Con Murphy, Tomás Mulcahy and Niall Cahalane.
In an emotional and often humurous tribute to his father, Cian McCarthy said Teddy had mellowed in the years before his death.
"We joked about it at home," he said. "All his life he was so wound up because he sacrificed his life to GAA. When my two lads were born he really put time in to them, teaching them to play hurling and football. He would be giving out to me for giving out to them.
"Myself and (my brother) Niall used to be slagging him saying 'if only he was like that when we were growing up'. It was great to see, because he really took pride in seeing his grandkids getting a kick out of playing games and carrying his legacy to another generation. Well, he was really proud of that.
"There was an ongoing slagging. He would call down and he would be looking at Tiernan and saying 'greatness always skips a generation' and he would look over at me then.
"Last Monday he came to our game to see us play and we went for a few pints after. It was a fitting day for all he stood for: talking about the game; dissecting the game. He even told Niall he played well, which was another rarity!
"We will drive on and stand tall, because that is what he did for us."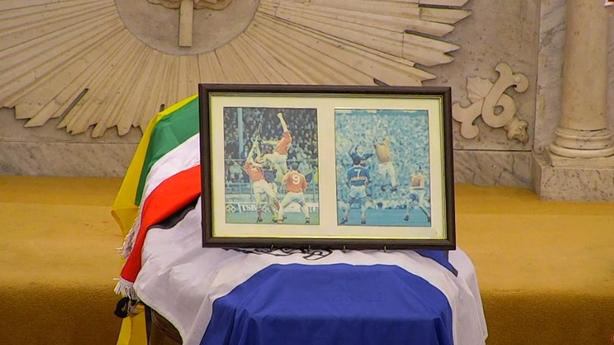 Chief celebrant at the mass, Fr Pat Fogarty, said that Teddy had made the journey to Thurles last Sunday to watch the under 20 All-Ireland hurling final between Offaly and Cork. Cork won and there was "great joy and celebration" of the victory by Teddy and his pals, Tomás Mulcahy and Jim Cashman.
"Then on Monday evening Teddy was full of pride and joy and had a wonderful evening watching his two sons, Cian and Niall, representing Passage in the MacCurtain Centenary Cup and they were victorious. He was there with his family and his two adored grandchildren."
Fr Fogarty said that a dark cloud had descended over the community when the death of Teddy was announced.
He insisted that everyone immediately thought of the pain and suffering his family would experience following the loss of their loved one.
Such was Teddy's fame in sporting circles that he was known by his first name and never needed a surname for people to establish his identity, Fr Fogarty said. However, he insisted that Teddy "wore his badge of fame lightly and never sought the limelight".
Offertory gifts included the Sam Maguire and Liam MacCarthy cups, the jerseys of Sarsfields Hurling Club and Glanmire Football club, a hurley, a sliotar and a football, Cork jerseys, a picture of his late mother, Mary, a shirt representing his fondness for looking 'dapper, his two medals from the 1990 All-Ireland double and the jerseys he wore on those momentous occasions.
Fr Fogarty added that GAA fans of a certain vintage could picture Teddy "soaring above the clouds, high in to the sky, fielding a football or else grabbing the small ball where other fellas wouldn't put their hurley".
In his homily, family friend Fr Martin Barry said that Teddy was at mass as recently as last Sunday. He said that it was hard to imagine that he had passed away just two days later.
"I would not rate myself to be a very strong and powerful man but, at the same time, I don't cry very easily," he said.
"But I do admit to shedding a few tears when I heard that Teddy had died. He died in his sleep. At least he had a peaceful death. In Teddy's hurling and football career, he was most noted for the spring in his step, and for the leap into the air to catch the sliotar or a football.
"This was his greatest talent. The press described it in many different superlatives. I remember reading once that Teddy jumped into the clouds and brought the ball down with him. Now, if he jumped into the clouds, he was halfway to heaven.
"And now Teddy has made a final leap in his life, and he's leaped into heaven where he will be re-united with his mum and dad, Denis and Mary, and his brother and sister."
The mass was attended by senior political figures, including Tánaiste Micheál Martin, MEP and former GAA President Sean Kelly, Senator Jerry Buttimer, Colm Burke TD, and Lord Mayor of Cork Cllr Deirdre Forde.
The funeral was also attended by Cmdt Claire Mortimer, Aide de Camp to Taoiseach Leo Varadkar, and by Captain Paul O'Donnell, Aide de Camp to President Michael D Higgins,
Mr McCarthy was predeceased by his parents and two siblings.
He is survived by his wife Oonagh, his children Cian, Niall, and Sinead, brothers Pat and Denis, sisters Breda, Philly and Mary, grandchildren, Tiernan and Joey, daughter-in-law, Ciara, mother-in-law, Phil, extended family and a large group of friends.
He was laid to rest at Rathcooney Cemetery in Cork.