Tributes have been paid to the 19-year-old man who died in an incident involving a jet ski on Lough Derg at Killaloe, Co Clare last night.
He has been named as Wassiou Ayawe, who had lived in the Moyross and St Mary's Park areas of Limerick city.
He was a skilled soccer player with Limerick FC, and had attended CBS secondary school in the city for a number of years.
Mr Ayawe died after he and two teenage girls who were on a jet ski on Lough Derg were thrown into the lake when the jet ski flipped over near Killaloe bridge.
Tributes have been placed on social media by Mr Ayawe's family and friends, saying their hearts are broken at his loss.
In a photo tribute, his devastated sister Tiana said that balloons would be released tonight in memory of her beautiful brother.
Limerick City North Independent Councillor Frankie Daly said he knew of the young man as a gifted soccer player and that he was sought by many soccer clubs in the city.
"It's a huge tragedy for his family," he said.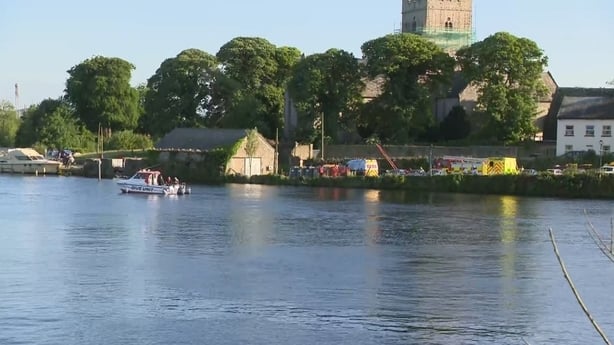 Mr Ayawe's death has "cast a very dark shadow" over the community, the chairperson of the Killaloe-Ballina Search and Recovery Unit has said.
Speaking on RTÉ's Morning Ireland, Tony O'Brien, who is also Cathaoirleach of Clare County Council, said that the young man was a visitor to the locality, which is normally a very popular place for people to come for a swim.
"It was a very tragic accident. A young man and his friends out enjoying themselves on the water and an incident occurred. Exactly what happened is still a matter for investigation and gardaí are trying to find out.
"It cast a very dark shadow over the community yesterday evening when the news got around that a young person lost their life. Because it is a very popular place for young people to gather.
"It was just south of the bridge on the Limerick side, where quite a number of young people gather just for a swim and to enjoy the sunshine and the water. You have quite a number of swimmers."
Mr O'Brien said jet-skis have become very popular in use over the last number of years in the area.
He also appealed for people to exercise caution around water as people use amenities such as lakes more frequently through the summer.
"It's a very busy time. The weather yesterday was absolutely gorgeous. There wasn't a ripple on the water. It was just idyllic.
"I would say to anybody who is thinking of going on or using the water, wherever in the country they are, you must respect it. Because when the water turns back on you, it can be very tragic as we saw yesterday evening."
Gardaí are investigating the circumstances that led up to the incident and have interviewed eyewitnesses and those who tried to help.
The jet ski itself, and the speed at which it was travelling in the water prior to the accident, will also form part of the inquiry.