The victorious Munster rugby team have arrived back to a massive welcome home at Limerick's Thomond Park this evening - fresh from their win over DHL Stormers in the URC final in South Africa last Saturday.
Thousands of Munster fans have turned out to greet them to a loud rendition of The Fields of Athenry, one of the great anthems of Munster support.
It has been a long wait without a trophy - 12 years since a win for them in 2011 against Leinster in the Magners league - and despite being in a number of semi-finals and finals, victory has evaded them over that time.
Two members of that 2011 winning team - Keith Earls and Conor Murray - remain on the current team, while Peter O'Mahony and Simon Zebo were also members of the Munster squad at that time.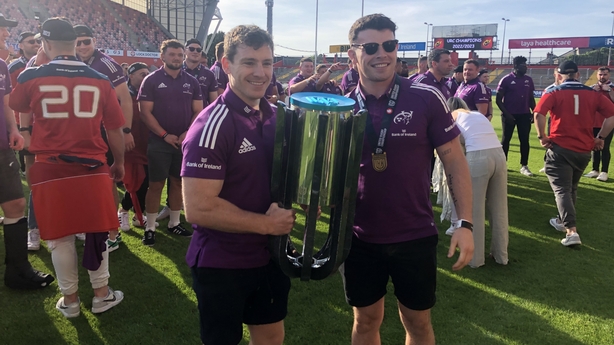 Munster also won the Heineken Champions Cup in 2006 and 2008 and the Magners league trophies in 2003 and 2009.
Since 2011 Munster had reached three finals and ten semi-finals in both the Pro 14 and Champions Cup competitions.
They were unbeaten in their previous four matches away from home leading up to last Saturday's final.
Some 9,000 tickets were released for this evening's event at Thomond Park.
Ahead of their arrival at the stadium the team was due to visit Limerick City Hall for a welcome home ceremony with Mayor of Limerick Councillor Francis Foley.
Fans said this victory and homecoming was particularly sweet given the long gap since the team's last win.
Player Shane Daly said: "We just have the best fans in the world - even in South Africa at the final the Munster fans were shouting the loudest. I just love playing for this Munster team, and the fans mean so much to us".
His teammate Jack O'Donoghue praised the loyalty of fans, steadfast in their support year in year out, despite the dearth of winning trophies, adding that it was great to come home victorious to such fantastic supporters.
"The fans who came out here today are just incredible - out here for the last ten to 12 years, and still they are here to support us.
It was particularly emotional for Keith Earls, one of the members on the original team who won a trophy in 2011, he was back in his own neighbourhood.
"These are the fans we play for, the people of Munster and this homecoming was so so special," he said.
When asked if he had played his last match in the red Munster jersey, he said: "Who knows, who knows. I'd like to have a good pre-season and then I'll make a decision."