A €2.2 million sports complex and remote working hub has been officially opened this afternoon in the village of Banteer in north Co Cork.
The Minister for Rural and Community Development, Heather Humphreys - whose department provided half the funding for the project - said it was proof of what can be achieved when rural communities are given the right supports.
The complex includes a full-size astro-turf GAA pitch with viewing area, a sports pavilion and community event space as well as a remote working hub.
The remote working hub has high-speed broadband, which will allow local people to work from home or on a hybrid basis. It will also act as a support to local businesses.
The project was developed with the help of a €1.3 million investment from the Government's Rural Regeneration and Development Fund.
The official opening was performed by Minister Humphreys, who described the project as transformational.
"This project, and many others like it, represent everything that I have been saying for years about rural Ireland," Minister Humphreys said.
"It is a showcase of what an energetic and active community, with a fierce sense of pride and place, can achieve when they are given the opportunities and funding streams to make things happen."
Members of the local committee were present at this afternoon's official opening and were honoured by the community for their work on the project over many years.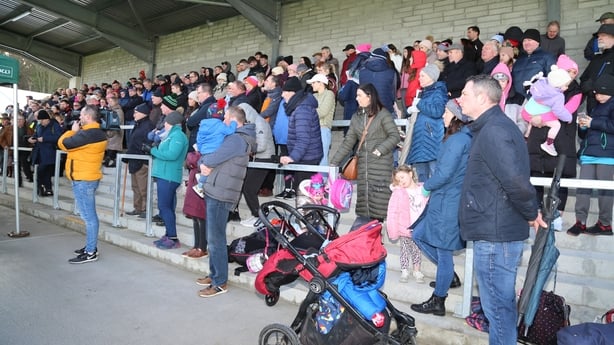 Secretary of Banteer Community Sportsfield Committee Denis Withers said the project had been delivered by a whole-community effort.
"This is a project which has been developed and nurtured at a community level first and foremost, and this has been reflected in the support received from the local community, and all the fundraisers and ticket sellers who worked so hard to make this vision a reality," Mr Withers said.
"These wonderful facilities will enable the communities in this region, and future generations to come, to enjoy a better quality of life and to continue to grow and thrive."
Mr Withers paid tribute to the local businesses and community organisations that have supported the project, including the management and staff of community development organisation, IRD Duhallow.
The Government's Rural Regeneration and Development Fund provides grant aid for the development and construction of capital projects in towns, villages and rural areas across Ireland.
So far, the fund has provided almost €400 million for 215 projects across Ireland. The projects are worth a total of €542 million.
In Co Cork alone, the fund has provided more than €34 million for 21 projects. The total value of these projects is almost €60 million.