A report commissioned by the UL Hospitals Group (ULHG) on capacity issues and patient flow has found it will require an additional 302 inpatient beds by 2036, more private hospital capacity, and extra staff if it is to meet the demands of the population it serves.
ULHG provides emergency, surgical and medical services on an inpatient and outpatient basis via its six hospital sites - University Hospital Limerick, University Maternity Hospital Limerick, Nenagh Hospital, Ennis Hospital, Croom Orthopaedic Hospital and St John's Hospital (Voluntary).
The Deloitte ULHG Patient Flow Report was commissioned by group CEO Professor Colette Cowan last March to undertake a comprehensive review of operations at the hospital, and was prior to the Minister for Health assigning HSE specialists to address and support measures to alleviate overcrowding there.
In the report, Deloitte analysed data over a three year period from 2019 to 2022, and the projected demand for the next 14 years up to 2036.
The report found that the group provides acute and specialist care for a population of almost 390,000 people across Limerick, Clare and North Tipperary, with 15% of that number over the age of 65 and who are high consumers of healthcare.
By 2045 the mid west and west will jointly have the highest number of older citizens in the country.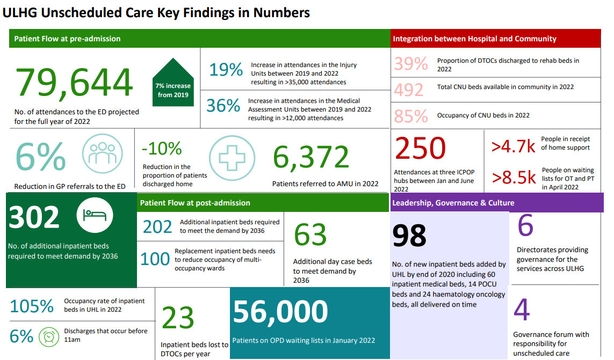 There are also a high percentage of people classed as living with a disability, and those classed as extremely disadvantaged.
Against this demographic background UHL had the highest number of people attending its Emergency Department last year at 76,473 and it is estimated to be almost 80,000 by the end of this year a 7% increase since 2019.
The projected 302 additional beds that are needed are made up of 202 impatient beds and 100 replacement beds. Current analysis show ULHG to have the fewest impatient beds per 1,000 population.
In addition, UHL has a high level of outdated multi occupancy wards - 199 of the 530 beds it currently has are located in old unsuitable nightingale wards, many with up to 14 beds, which pose higher risks for infection prevention and control and lead to operational difficulties in managing unscheduled care.
It also has the lowest consultant, non-consultant hospital doctors, nursing and health and social care professionals for its population. The report recommends additional doctors and nursing staff in the emergency department as an immediate priority.
Attendances at the UHL's emergency increased by 7% since 2019, far in excess of demographic increases, many of them self referrals, which underlines the capacity issues at primary care level and in particular in GP care.
But despite the attendance rise, there has been no increase in staffing levels at UHL's emergency department.
Slow discharges are also hindering efficient patient flow at the hospital. Most discharges do not happen until the afternoon, and sometimes discharges are not authorised until late in the day, between 4-7pm, which means the beds are not turned around in time and increases the waiting time for patients in the emergency department.
In addition staffing shortages of occupational therapists and medical social workers is impacting on patient flow in some wards there are no occupational therapists or medical social workers and the lack of these disciplines impacts on timely patient discharges.
The report also highlights the fact that it has the lowest private hospital bed capacity in the country - a factor unique to the mid west.
In line with this, elective care reduced by 4% between 2019 and 2021, which had the knock on effect of increased numbers attending the ED and being admitted, reducing elective capacity, with much of it cancelled, and the waiting lists getting longer.
While the report says the group has a strong management team across the six hospitals and there is a culture of pride among staff about the quality of care they provide, there is also evidence of fatigue among staff due to the consistent pressures on the system which is impacting on that pride and positivity.
The group today welcomed the analysis by the consultants as it is important in the context of the establishment of Regional Health Areas in 2024, where resources will be allocated more efficiently and equitably on the basis of population need.
Prof Cowan said: "Significant and growing demand for unscheduled care, in particular over the last 18 months, has contributed to long wait times for patients and the curtailment of scheduled care for many patients whose treatment had already been delayed because of the pandemic. It was in this context that I commissioned Deloitte to undertake this external review in March 2022.
"The key findings of the report underline how we have been managing record demand for our services, from a population with greater health needs, with fewer beds and fewer staff per head of population. Publication of the Deloitte Report is an opportunity to address this fundamental imbalance as we move towards population-based resource allocation.
"It is important that I recognise the additional support that we have received from Government and the HSE, with the addition of 98 new inpatient beds at UHL since the start of the pandemic and over 900 additional staff so far this year.
"Work will commence next month on a new 96-bed block for UHL. More work is needed, however, for us to catch up with other regions and to plan to meet the demands from a growing and rapidly ageing population."