The art of a much-loved Co Kerry farm labourer has been uncovered 26 years after his death.
The discovery of up to 30 paintings by bachelor Mickie Cavan, along with his decorated manuscripts, follows a community appeal in Ardfert to locate the work of the popular local character.
Mickie Cavan is fondly remembered in north Kerry village as a quiet, shy man who was often seen riding his bicycle along the highways and byways of Ardfert as he earned a living working for local farmers. He was a bachelor who lived a quiet simple life, yet he left his mark in a most beautiful way.
While he had no formal training, Mickie Cavan held a deep passion for art and harnessing a unique talent he created intricate works of art which he then gifted to his friends and neighbours. Mickie never exhibited and he had no desire to receive payment for his paintings.
Mr Cavan was an innovative resourceful artist who made use of the materials he had at hand. He often painted on discarded washing powder cartons and cigarette boxes, using ordinary household and farm paints and incorporated elements such as twine, foil and cardboard in his paintings.
The unlikely exhibition of Mr Cavan's work, 26 years after his death, has its origins in a casual discussion during a meeting of the Ardfert Historical Society.
Local art teacher Lillie O'Sullivan had brought a couple of Mr Cavan's paintings to the meeting. Curious to see if other examples of Mr Cavan's art had survived in the parish, a request for similar artworks was put out within the community.
The response was immediate and unexpected.
Over 30 pieces of artwork and a large number of Mr Cavan's manuscripts, beautifully bound and decorated by himself, have been discovered.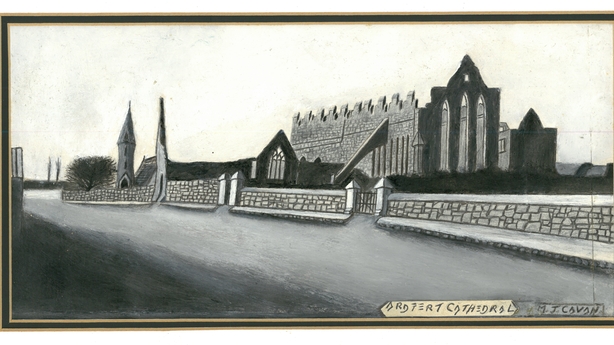 "We never expected such a response. It's clear that people valued Mickie and his work. It was an honour to receive a gift of a painting from him and people had kept Mickie's work carefully stored away in attics and in presses," said Ms O'Sullivan.
"It's phenomenal. It's powerful art. He used farm paint and glossy and matt house paint, biros, cardboard boxes, brown paper, Omo boxes, Woodbine cigarette boxes and he built up his own frames around the piece," she added.
"He didn't have any formal art training so there is a naivety to the work. However, there is a lot of skill there as well, because he studied it at home.
"He collected cartoons by a cartoonist named Millington and he also drew and sketched from black and white photos in newspapers. There is a primitive look to his work but he doesn't fully fit in to the categories of outsider art or folk art. He did his own thing and he came up with his own quirky ways of doing things."
Born in 1916, Mr Cavan left school at the age of 14 and began working for local farmers around Ardfert. Apart from one trip to Dublin, he never left his native place.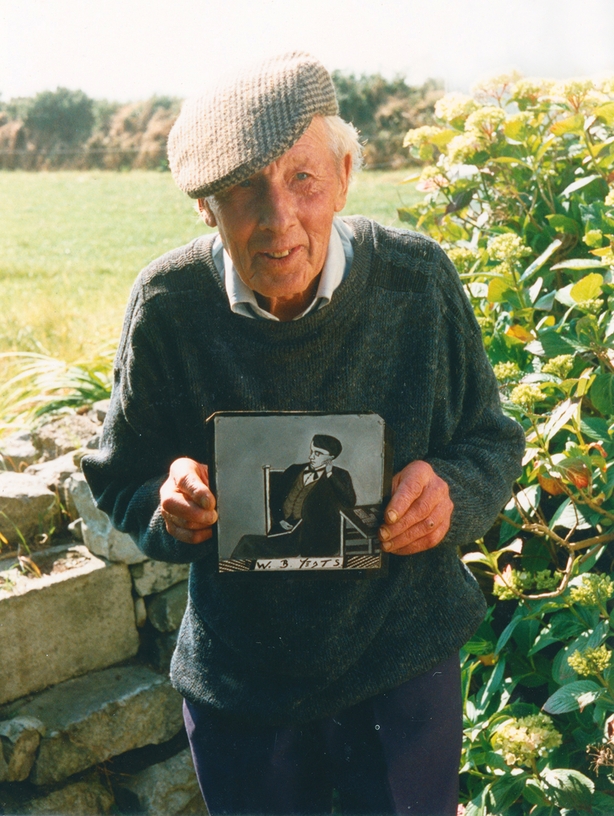 Nuala Kelly of the Ardfert Historical Society says Mr Cavan is remembered for his gentle, unassuming manner but also for his remarkable intelligence.
"While he had very little schooling, we knew growing up that he was an extremely intelligent person with a hunger for information. He was a very quiet man, very humble man, a man of the land and a man who lived his life by the principle of the 'meitheal'. He helped friend and neighbour.
"He did his art very quietly in his own time. Mickie never had a television in the house. He spent a lot of time quietly working on his paintings and his sketches. He gave his art as gifts to his friends and neighbours. He placed no monetary value on it himself and it's only since this project started that we have come to realise the amount of work that's been left around the parish by him and the love our community had for this simple but special man."
Many of Mr Cavan's paintings features farming scenes along with local landmarks such as Ardfert Cathedral, Ballybunion Castle, the Land League House, McKenna's fort. Some of his art commemorates well-known local personalities such as Paddy O'Sullivan the fiddler and Republican hunger-striker Martin Ferris.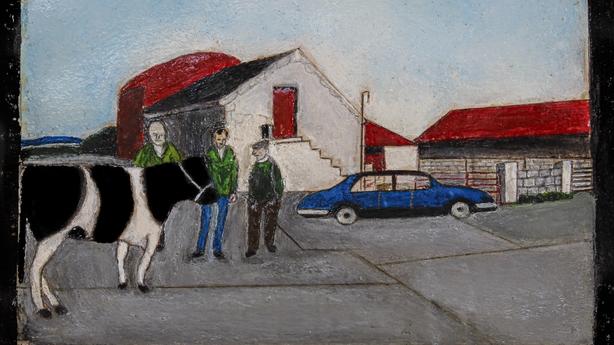 Mr Cavan also made portraits of literary and political figures of national importance including WB Yeats, James Joyce, Peig Sayers, Roger Casement and Joe Clarke.
The exhibition in the Ardfert Cathedral Visitor Centre also features a collection of Mr Cavan's manuscripts.
They contain a miscellany of carefully transcribed information which interested the scribe.
Many of the manuscripts document aspects of local history, songs and literary quotations which he enjoyed. Mike Lynch of Ardfert Historical Society says the manuscripts are extremely important social documents.
"Money was scarce but Mickie was very resourceful. He did his own binding and created his own hard covers using cardboard which he decorated beautifully," Mr Lynch said.
"The manuscripts are works of art in themselves. The handwriting is striking. I think Mickie used his art and manuscripts to communicate his love of his native place and his country to his community."
The exhibition was officially opened in Ardfert Visitor Centre by Minister for Education Norma Foley. Lillie O'Sullivan described the event as a "very moving and nostalgic community gathering" as locals shared memories of their much-loved neighbour and caught a glimpse of the range of Mr Cavan's art for the very first time.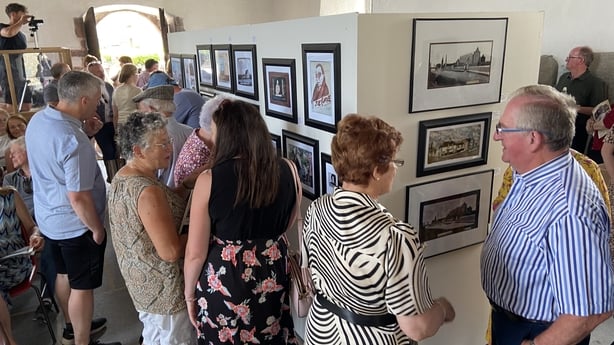 "Everyone who still had a piece by Mickie held it sacramentally. They are precious to people here and they are saved and minded in the hearts of people's homes. Everyone who has a piece by Mickie has that emotional connection with it.
"It's amazing that a collection of art can bring people from a parish together 26 years later with their hearts full of emotion because of the impact this man had and his work had and continues to have on them."