The country's first fully inclusive playground for children with physical disabilities was officially opened in Cork today.
The Crann Centre in Ovens supports people with neuro-physical disabilities such as spina bifida and muscular dystrophy.
The playground, which cost €500,000, was designed with University College Cork's Department of Occupational Therapy in consultation with the families who use the centre.
Kate Jarvey, the Centre's founder, said the real meaning of inclusivity is to see able-bodied children and children with disabilities playing together.
"This is how we break stigma, we can do it right here, right now, and we are," she said.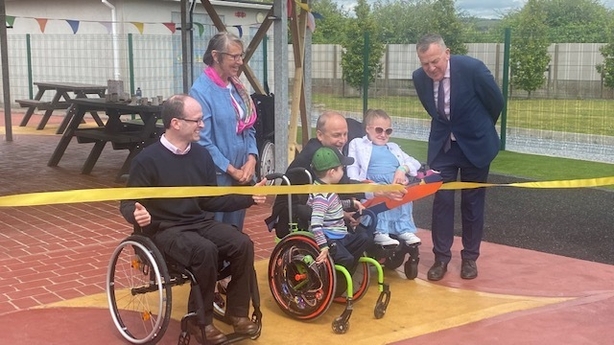 With fully accessible swings and roundabouts, the playground also has a pirate ship, a trampoline and a shaky bridge as well as fully accessible toilets and changing rooms, a quiet area, and a family recreational space designed for picnics and barbecues.
Chief Executive of the Crann Centre Padraig Mallon said the motivating factor for the playground was the fact that families did not have access to a play area where they, as a family, could come and play or be together.
"It will be really good for physical fitness, it will be really good for adapted physical activity, but most importantly it is for play," he said.
Alice Moore, an occupational therapist and PhD researcher at UCC, who helped design the playground, said the project is seen as the exception to the norm when really it should be the norm.
"All the guidance and all the standards are telling us it should be universal design. This means designing for all and designing for inclusion. Too many playgrounds tell us that there are accessible and inclusive if there is one component that's maybe accessible - but ultimately it is not, it is segregation, it is exclusion.
"Everybody should be able to participate and feel like they belong in a space and this (the Crann Centre playground) does just that," she said.
For 14-year-old Kate Crowley from Douglas in Cork, today was the first time she had ever been on a swing and she was overjoyed.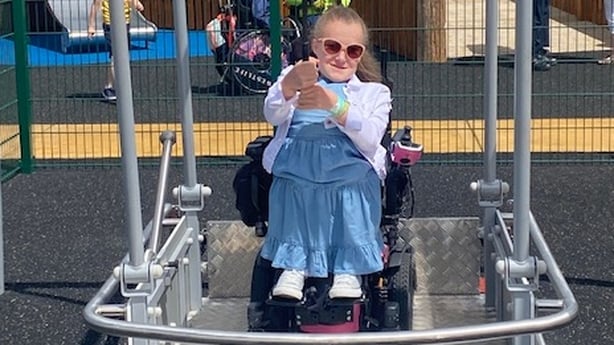 "Now I am able to go on it and it is just amazing to enjoy (it) and do as other people can," said Kate.
The jewel in the crown is the MV Hilarium, a wheelchair accessible pirate ship which gives children with different needs the opportunity too to take risks and climb to the top of the ship.
It was built by a team of volunteers lead by Terry O'Neill, whose late son Cathal, who had spina bifida, was his inspiration.
"Today is bittersweet because he'd love this, even today (the official opening), this would have been his cup of tea," said Mr O'Neill.