Faoin Spéir - In The Open - is a series of Arts Council-backed outdoor arts events which got under way over a year ago to bring art outdoors at a time when people were not allowed to gather indoors, and the finishing touches are being put this week to one of the last projects under its auspices.
In Clonmel, Come Out to Play is the theme of the town's showcase of artists under the Inside Out banner and world-renowned street artist Joe Caslin has been completing his work on an old museum building on Parnell Street.
"The image itself is very much embedded in Clonmel itself," he said. "Clonmel means 'honey meadow' so there's two different figures in the artwork, one of them has a bee on her chest and the other one holds a tuft of grass that was taken out of the meadow. So there's lots of little symbols that are included into it, like visual metaphors that just speak about the place where the artwork is.
"Overall, the piece has two young people. One is very much of traditional sport, the other... is a little bit more introverted and how you can play using your imagination. We have been locked up for a long period of time, and the project is asking people to come back out, to re-engage and come back out into the world and play."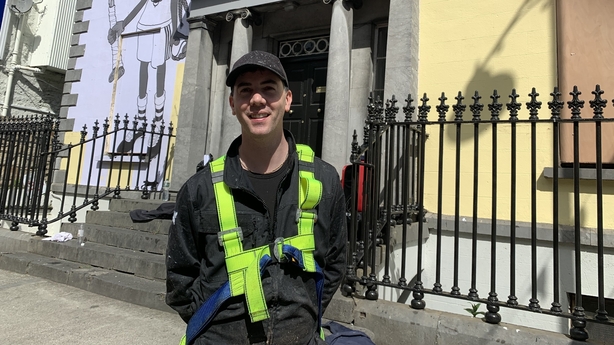 While many of his past pieces have been politically-inspired, this one is more light-hearted, the artist said. "A lot of my other stuff, the topics are really heavy, whether you're talking about direct provision or mental health, this one is more about a bit of play and a bit of fun and something more joyful and child-like, in a way."
The response so far has been positive, he said. "People have been stopping by all morning, we've a gang here that's working with us so they're able to speak about the project, so that's lovely. Because it is engaging, it is very much a community thing and it's good to be able to pass on the information and also to listen to what people's opinions are of the work."
Among those to visit were an art class from the nearby Loreto Secondary School, led by art teacher Anne Marie Kirby. "I think they're absolutely fantastic," she said of the various pieces in the town. "I know from teaching students it's great for them to actually see work, not just in the gallery, but where they work and to get outdoors and be able to engage with a huge installation and vibrant piece."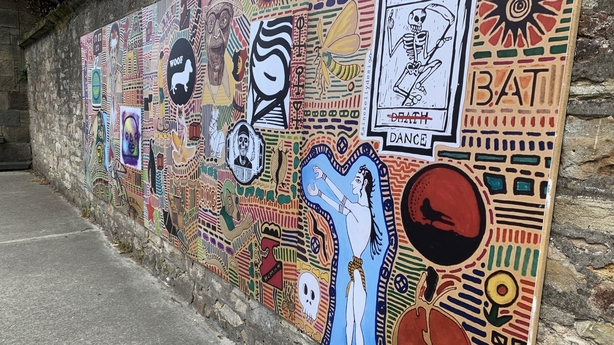 Student Emma Ryan said the work is "different, it stands out compared to everything else around town" while her friend Alex Reidy said "it's great to be bringing art more to the town and liven it up a bit and it's great for people to see the talent that's around in Ireland."
Joe Caslin's piece is the culmination of three phases of the art project in Clonmel, the first of which saw a mural being placed at the corner of Nelson Street and Parnell Street; the second comprising the installation of works by seven artists who are either from or based in Co Tipperary, around the town centre.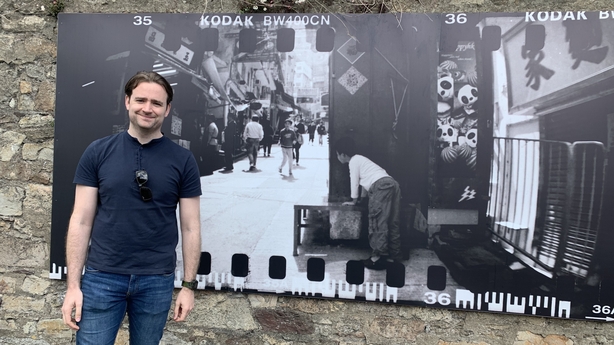 Locations include Market Street and Davis Road, the latter acting as the home to Hide and Seek by Press Play Repeat, a pseudonym used by Clonmel native Paul Sheehan who has worked as a DJ and visual artist.
His piece is interactive, with viewers able to use a QR code to download a link to further work.
"I love intersecting image and sound," he said. "Hide and Seek is basically an audiovisual piece, it's a photograph encompassing play which is the theme of Inside Out and the audio piece details 10 stories from people all over the globe - Hong Kong, Bulgaria, the US to name a few - talking about their memories of play."
Faoin Spéir is the brainchild of the Arts Council and has seen outdoor-based work being displayed in many towns around the country. In Clonmel, it's in partnership with the South Tipperary Arts Centre and Tipperary County Council.
"The idea for this project, Inside Out, is about bringing the visual arts out onto the streets of Clonmel," explained Helena Tobin, the creative director at South Tipperary Arts Centre. "So it's literally about turning the gallery inside out and bringing the art out to the streets for the people to see."
She described Joe Caslin's contribution as "a beautiful mural" and pointed out how recognised his work has become across the country and beyond. "It's really great to have local artists as well as nationally-renowned artists here in Clonmel for this project."