A special occasion was held at the Cistercian College in Roscrea, Co Tipperary today to honour the college's most recent famous past student.
Emmet Mullins graduated from the college 14 years ago and followed his interest in horse racing.
At 32, he was the winning trainer of this year's Aintree Grand National after Noble Yeats claimed a sensational victory at 50-1.
The seven-year-old horse was brought to the college today to honor three generations of the Mullins family and their connection with the school.
Emmet's mother Bridget, his father George and his grandmother Maureen Mullins were also in attendance.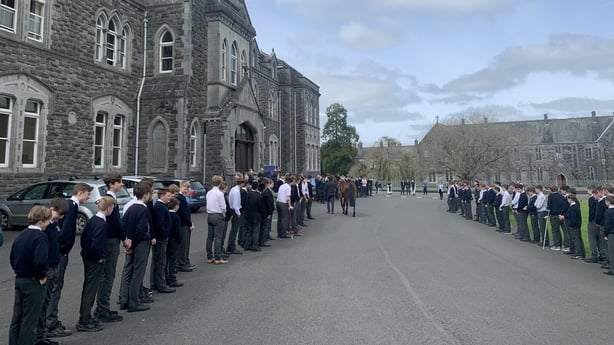 Emmet said it was a very special day for him to be honored by the college in such a way, and that he was still coming to terms with the Aintree win.
His father George attended the college, as did his uncles - Tom, Tony and champion trainer Willie.
Emmet's grandmother Maureen was described as the "grand dame of Irish racing" and said it was a very proud day for her and her family.