Limerick's All-Ireland winning hurling team - winners of the Liam MacCarthy cup in 2018, 2020 and 2021 are Grand Marshals of this year's Limerick city St Patrick's Day parade.
They are carrying the trophy as part of the parade, as they lead this year's city centre festivities. 250 club GAA members are taking part in the parade.
The theme of the parade is 'Belonging and Identity', which marks the comeback of the national celebrations' live events on the streets after an absence of two years due to the Covid pandemic, and is expected to attract up to 50,000 spectators.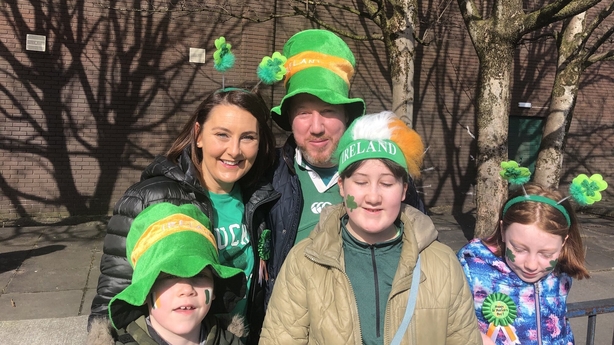 Limerick hurling star Aaron Gillane said: "It's a great honour for us to be the Grand Marshals for the parade, and it's a huge privilege for us as a team. I know there will be plenty of clubs from all over Limerick that we haven't been able to get to see over the past two year, so we are looking forward to seeing them all."
In many ways this will be the first time the public have been able to properly celebrate their last two All-Ireland wins, as Covid prevented on street celebrations, so this will be an occasion for Limerick fans and loyal supporters to show their appreciation and admiration and thanks to the team.
#Limerick St Patricks day 52 community music culture & sporting groups taking part @rtenews pic.twitter.com/o7scOviGJh

— Cathy Halloran (@HalloranCathy) March 17, 2022
The route of the parade has been altered this year because of upgrading and revitalisation works on the city's main O'Connell Street.
The parade began at midday and is proceeding from The Crescent down a portion of O'Connell Street before diverting down Cecil Street, and then Henry Street and down by Arthurs Quay where the reviewing stand is located.
The parade kicks off a four-day festival weekend in the city, which will see an aerial and fire festival at the potato market on Saturday, featuring aerial dance group Fidget Feet and the ROGU fire performance company, the panoramic wheel at Arthurs Quay park, and the 50th International Band parade on Sunday in which 15 bands from the US and the UK, as well as local bands, taking part.
Ennis, Co Clare
The theme of this year's Ennis parade is 'Coming Together' - appropriate for an occasion when people will be reconnecting and coming together in Clare's capital town for the first time since 2019.
It is also dedicated to its frontline workers who make up its grand marshals this year with nurse Mhairi Barron from Ennis hospital, Dr Bruce O'Donnell from Ennis Medical, and Julia Fitzgibbon Hayes, a family support worker from Enable Ireland.
Almost 40 groups and floats are taking part this year representing the vast array of cultural, music, drama, dance, sporting and community organisations for which Co Clare is famous.
Musical entertainment was provided before the parade kicked off at 11am with the Ennis Gospel Choir and Comhaltas both performing in the town.
Ennis Tidy Towns, which has brought the town such pride as national winners, are also taking part as well as Clare youth theatre groups and international and local bands.