Alla Dediuk, her husband Andriy and their two sons have lived in Fethard in Co Tipperary for over 16 years, where she runs a successful cafe and patisserie.
Alla's Patisserie is popular with locals and visitors who enjoy her delicious cakes, croissants, quiches and teas and coffees, and the friendly welcome and chat.
But her successful life and business in Fethard has been completely overshadowed by concern about her family in Ukraine since war was declared there by the Russians late last week.
Ms Dediuk is from the northern Ukrainian town of Chernigov, which is about 60 kilometers from the Belarussian border, and which has seen much fighting and war activity since the Russian invasion began.
She tries to speak to her father and brother who live there every day. Some days she has not been successful in reaching them because of the breakdown of the infrastructure there and internet communications.
"I am very worried and stressed and awake at night worrying about my family, about my brother and father and many cousins who are still there," she told RTÉ News.
"They are safe so far, but there has been much fighting in the area."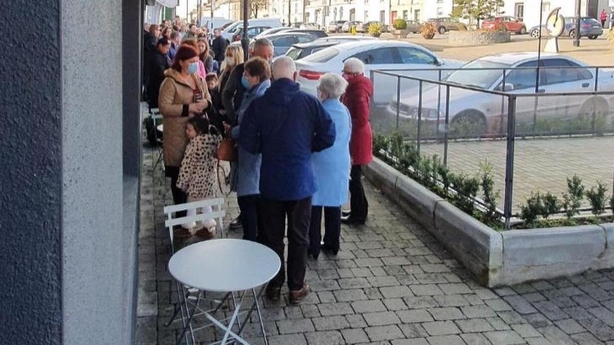 Ms Dediuk felt she had to try and do something to support her countrymen and women, putting out a call over the weekend for locals to offer whatever they could donate, such as cash, warm clothes, and medicine.
She said she has been overwhelmed with the response.
Queues of people turned up at the cafe yesterday, where she had erected her Ukrainian flag – ironically the same yellow and blue county colours of Tipperary.
"Everything we sold in the cafe yesterday and today has gone into the donation bucket," she said.
"We literally sold every single pastry and cup of tea and coffee, and already we have raised €11,000 for the support kitty."
The people of Fethard and Tipperary have also responded generously with bags of food, warm clothes and medication, which is badly needed because shops and pharmacies have closed.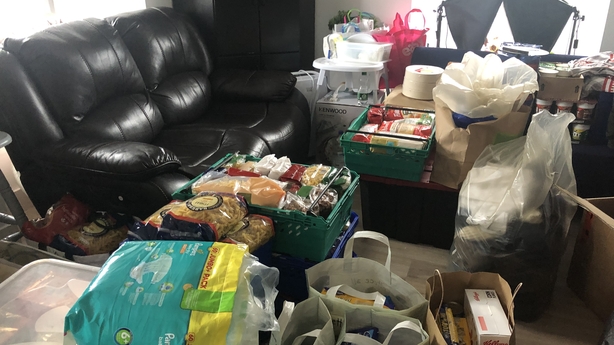 Ms Dediuk is gathering all she has been given and is in touch with voluntary organisations in Ukraine, responding to their requests for goods.
She plans on getting them by freight truck out of Waterford port and onto Ukraine via Poland.
Local priest, Fr Henry McNamara, said he is saying a special mass at Fethard Abbey tonight so that people can come and show their solidarity with the plight of Ukrainian people.
"People feel completely helpless and they want to do whatever they can to help," he said.
"This is just an appalling situation and they want to show whatever support they can."
Local man Willie Harrington agreed.
He said they wanted to show their support to the Dediuk family and their family in Ukraine who are caught up in this dreadful situation.
He said the people of Fethard wanted to do whatever they could to show their appreciation and support, and they came out in strength to donate whatever they could.
We need your consent to load this rte-player contentWe use rte-player to manage extra content that can set cookies on your device and collect data about your activity. Please review their details and accept them to load the content.Manage Preferences