The jury at the inquest into the deaths of 36-year old Marie Downey and her four-day-old son Darragh have returned verdicts of medical misadventure in both cases.
Coroner Philip Comyn explained that such verdicts were indicative of a conclusion by the jury that the deaths were consistent with "certain systems failures".
The inquest jury also made a number of recommendations.
Earlier, a perinatal pathologist who conducted the post-mortem examination on Darragh Downey said he died as a result of multi-organ failure as a consequence of compression asphyxia.
Dr Peter Kelehan accepted that this was consistent with baby Darragh being found trapped under his mother, Marie, at Cork University Maternity Hospital on 25 March 2019.
Dr Kelehan was giving evidence, via video link, at the inquest into the deaths of Marie and Darragh Downey at the Coroner's Court in Cork.
He described Darragh as a normal newborn baby born at full term.
Dr Kelehan said he had been directed by Cork City Coroner Philip Comyn to conduct the post-mortem examination on baby Darragh.
Answering Senior Counsel Dr John O'Mahony for the Downey family, Dr Kelehan accepted that Darragh's life could have been saved if, for instance, a member of staff at the hospital had walked into the room and taken action within around four minutes of Ms Downey falling from the bed and trapping Darragh underneath her.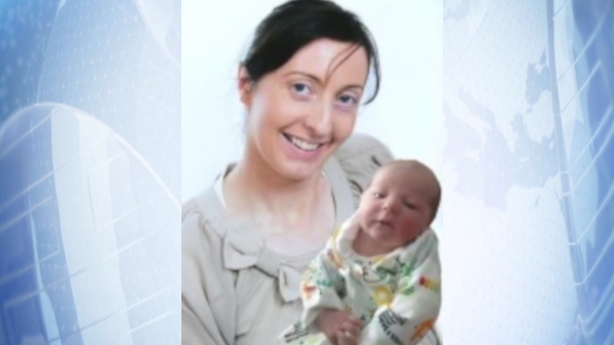 The inquest heard Ms Downey was found lifeless and partially out of the bed in her single room at the hospital.
Pathologist Dr Margot Bolster said she died from an upper cervical spinal cord injury, sustained in a fall, after suffering an epileptic seizure.
Dr Bolster conducted the post-mortem on the body of Ms Downey.
"In my opinion, she had a seizure, she fell out of the bed awkwardly, up against the wall. She suffered an upper cervical spinal cord injury, which led to her death," Dr Bolster told the jury at the inquest.
Coroner Philip Comyn put it to Dr Bolster that death would have been instantaneous.
Dr Bolster replied: "She wouldn't have known a thing - that is the only comfort I can give you."
Senior counsel for the HSE Conor Halpin and senior counsel Oonagh McCrann, for consultant obstetrician Keelin O'Donoghue, told coroner Philip Comyn that "in ease of the family", they would not be offering any submissions against a verdict by the jury of medical misadventure.
'Major clinical errors' - Downey barrister
The jury then heard submissions from senior counsel Dr O'Mahony and barrister Doireann O'Mahony on behalf of the Downey family.
Ms O'Mahony said there had been a catalogue of major clinical errors in the deaths.
She said while the deaths were tragic, it was "inevitable and inescapable" to conclude that they were foreseeable and preventable.
Ms O'Mahony said there was "a communication failure" on the part of Ms Downey's obstetrician, Prof Keelin O'Donoghue, to make contact with her neurologist, Dr Peter Kinirons, who was treating her for epilepsy.
Prof O'Donoghue yesterday said she regretted not contacting Dr Kinirons. She said it was an oversight on her part.
Ms O'Mahony said the Downey family hoped lessons would be learned that would lead to safer care for mothers and babies at maternity units throughout the country.
She said the coroner's court system needed reform to ensure bereaved families were put at the centre of inquests.
She said the Downey felt "adrift" during the inquest and were particularly aggrieved at the exclusion from evidence of the report of an independent expert review panel into the deaths.
"It is most upsetting for him (Marie Downey's husband, Kieran) that the report wasn't let into the public domain," she said.