An "extremely rare and precious" collection of silent film depicting rural life in Ireland in the 1920s has been discovered in the US.
The films were made by Benjamin T Gault, a conservationist and naturalist, who visited Ireland to collect seabirds and other wildlife specimens.
The unique footage, which is on 35mm nitrate rolls, was captured between 1925-1926 and was shot in west Kerry and Cork.
An extremely rare and precious collection of film depicting life in Ireland in 1920s has been discovered in America. Wonderful scenes from west Kerry, captured by an American ornithologist in 1925. Being digitised and made available to the public by @IFI_Dub and @sfsilentfilm pic.twitter.com/yNUd7FmKFj

— Seán Mac an tSíthigh (@Buailtin) November 18, 2021
The Irish Film Institute has described the collection as "precious", containing a "unique portrayal of life in Ireland" during the 1920s.
The films, which are in excellent condition capture a wide range of scenes, presenting vivid images of rural community, everyday work and social life.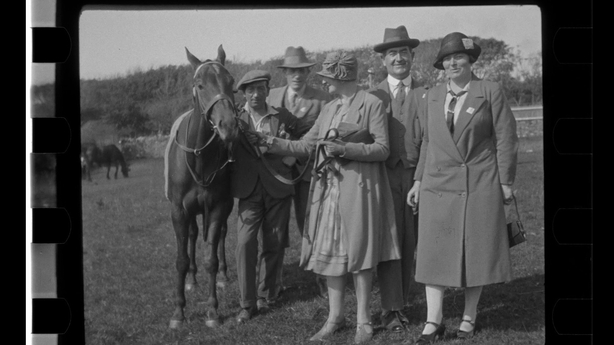 Many of the scenes were filmed on Corca Dhuibhne (Dingle Peninsula) and feature farmers and their families engaged in harvesting, turf-cutting, and potato-picking.
"My grandfather said the 'yank' took a film of himself and the other fishermen on the island of Inis Mhic Uibhleáin" - Mícheál Ó Mainnín
The films also depict the hustle and bustle of fair days and race meetings An Daingean (Dingle) town, lobster fishing, lively set-dancing on a village street and sheep being transported by 'naomhóg' from the Blasket Islands.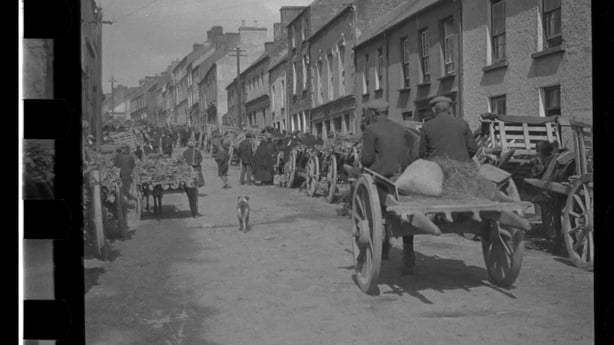 The discovery of the rare films was initiated by Mícheál Ó Mainnín, a farmer and fisherman from Baile an Fheirtéaraigh (Ballyferriter), as he sought to verify memories his grandfather had shared with him about "the American with a camera".
"My grandfather, Mick 'Neilí' Ó Mainnín, remembered this man coming around. He was collecting birds, eggs and other animals. He became very popular in the area as he had plenty money and was giving out money to anyone who brought him birds.
"My grandfather told me about a day they were fishing in Inis Mhic Uibhleáin (Inishvickillane) and they met 'the yank' on the island. He had a movie camera with him and he took a film of my grandfather, my granduncle and the Daly brothers."
Using the family story as a starting point, Mr Ó Mainnín began the task of identifying the curious "American" in the hope that his films may have survived.
His research eventually led him to the Chicago Academy of Sciences where he believed Gault may have stored his films.
On foot of the information provided by Mr Ó Mainnín, staff at the Academy carried out an extensive search and discovered a number of boxes in a basement store. The boxes contained the naturalist's private collection, including the priceless film footage.
Nineteen cannisters containing film were found in the boxes, along with a selection of Gault's notebooks and diaries.

In order to ascertain what the films had captured, one of the rolls was digitised, revealing a vibrant set-dancing scene and a family picking potatoes in a field.
With support from the Irish Film Institute a decision was then made to secure funding to digitise the entire collection in the hope that the other rolls of film also contained valuable footage.
Kathy Rose O'Regan of the San Francisco Silent Film Festival, who directed the digitisation of the films, said the results are beyond all expectations: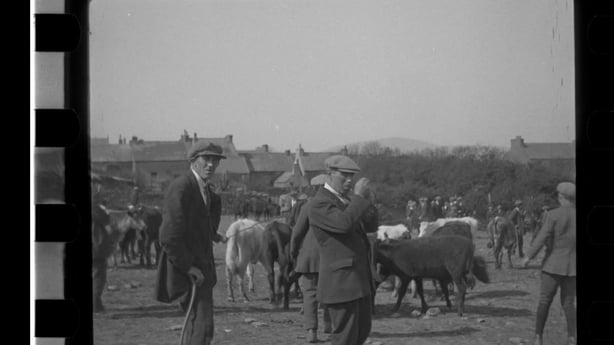 "These films are extraordinary snapshots of an almost unrecognisable Ireland, though they are not yet a century old.
"Moving images from Ireland in the first decades of cinema are extremely rare, so any addition to the body of work documenting Ireland in the 1920s, during this hugely transitional period in Irish history, is a treasure.
"They capture agrarian Ireland in many of its oft referenced but rarely seen forms - digging turf, the open air mart, harvesting by hand and working with donkeys. Moving images are a peerless window into times past, capturing not just the physical environment and all its changes, but people's habits, mannerisms, smiles."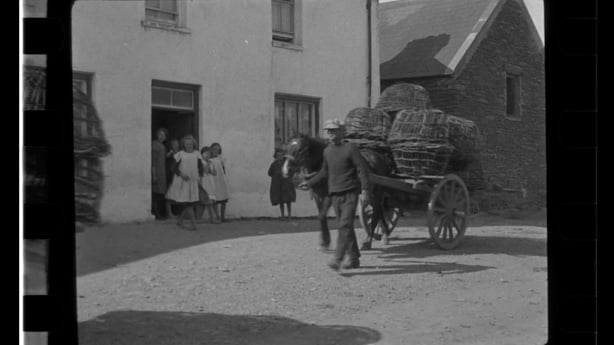 Manus McManus of the Irish Film Institute, who led the project, said the films form the work of a competent camera operator, capturing images of Ireland during a pivotal period in the country's history.
"Gault had a good eye: the collection, aside from being a fascinating document of the period, is full of lovely compositions, though the shots are often quite brief.
"The films were shot in in the early years of the Irish Free State, not long after the end of the Civil War. So, we're seeing images from a nation trying to get back on its feet, of people getting on with everyday life.
"The films cover a broad social spectrum, from well-heeled racehorse owners to barefoot children milling about outside a schoolhouse. Poverty was widespread in Ireland at the time; this footage was shot by an American, and you can't help wondering how many of those children ended up emigrating to America or elsewhere," he said.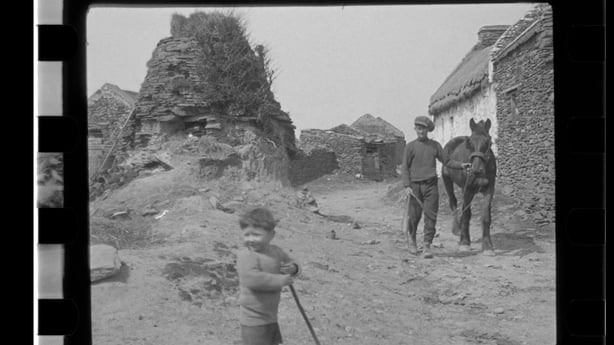 Local historian, Pat Neligan said the films offer an illuminating depiction of everyday life An Daingean 100 years ago.
"It's nostalgic. We see the way our people lived and we can learn an awful lot about life back then. We see a vibrant community, we see people going to mass, we see the street traders, we see the big day at the races.
"Despite the poverty the people appear happy in the films. The busy scenes of the fair day in Dingle are particularly special as this was a huge day in the life of west Kerry."
The films are on nitrate film, a beautiful but highly combustible film stock.
Each of the 19 small rolls was unfurled and complied on to larger reels at a film laboratory in Maryland.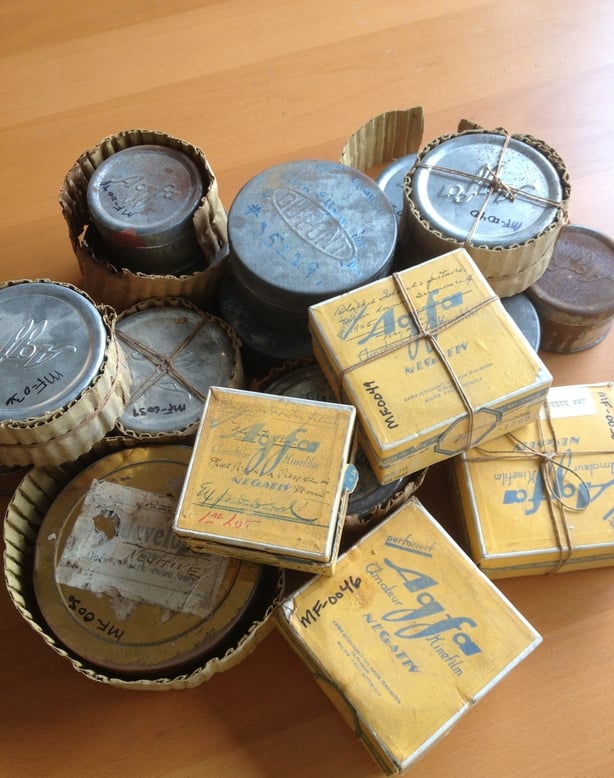 The films were ultrasonically cleaned before being carefully scanned at 6K resolution to capture as much information from each film frame as possible.
Files of each scanned frame were then delivered to the San Francisco Silent Film Festival office where special software was used to stabilise, dust, and perform digital repairs on each frame.
Rob Byrne of San Francisco Silent Film Festival said the film was in unsurprisingly good condition.
"The film itself is in fabulously great condition, for film that's been sitting in boxes for a hundred years. It's in these fabulous small rolls, each one containing about half a dozen scenes. They are very well preserved. We weren't sure what it was going to be like when we first unrolled it.
"Film this old could be blank, sometimes it's gooey and sticky and completely decomposed. In this case it was in very nice condition. Much of it looks like it was never printed. These films are negatives and then you would make a positive print for viewing," he said.
Further grading and restoration of the films is planned. Once the work is complete, they will be made available for viewing on the IFI Archive Player and there is also the possibility of screening the films in the An Daingean
area at some point in the future.
Benjamin T Gault (ca.1859 -1942), the man who made the films, developed a reputation as a respected naturalist and conservationist.
He collected and observed birds and animals throughout the United States and abroad, travelling to Cayenne (French Guiana) in South America and to various islands in Ireland.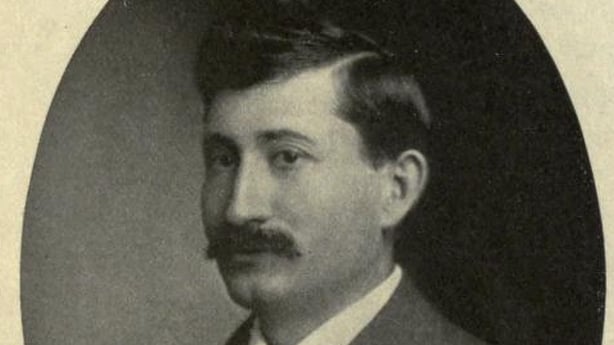 During his visit to Ireland in 1925, Gault stayed in lodgings in the west Kerry village of Baile an Fheirtéaraigh.
While carrying out extensive fieldwork himself, Gault also encouraged local people to bring him egg and bird specimens. Names and details of those who presented him with birds are carefully recorded in his notebooks along with the payment he gave them.
Mr Ó Mainnín said he was delighted with the outcome of his efforts.
"It's amazing to see our own parish and our own ancestors come alive in the films. It's a pity that the people featured in the films are gone and even the people who would have known them have passed away, but through these films their memory lives on.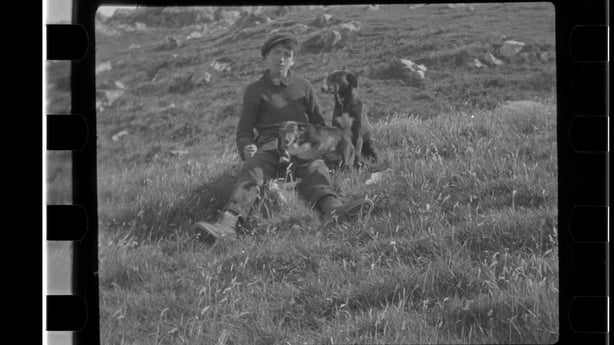 "My grandfather said the 'yank' took a film of himself and the other fishermen on the island of Inis Mhic Uibhleáin.
"He told me all the men had their pipes in their mouths and that they stuck a pipe in the mouth of their dog - Speed was his name - for the craic and would you believe it, you can see the dog with the pipe in his mouth in the film.
"It's lovely to see that the story I heard as a boy from my grandfather was true."