The General Manager of one of the busiest acute hospitals in the country has said that staff are "disappointed" that a booster vaccine for healthcare workers hasn't yet been confirmed.
University Hospital Waterford is currently over-capacity because of a range of factors and a spike in Covid case numbers in the area has had an impact on staff, with at least 50 absent from work every day.
Co Waterford's Covid incidence rate is more than twice that of the national average, at almost 1,100 cases per 100,000 of the population in the last fortnight compared to 493 for the country at large.
However, at the moment there are 16 confirmed Covid cases in UHW compared to over 120 at the peak of the January surge when the 14-day incidence was about 1,900.
"None of us would like to go back to January 2021," UHW general manager Grace Rothwell said today.
"In January our numbers constantly increased because of Covid, because people were more acutely unwell, possibly staff have since acquired greater knowledge, so now albeit we are admitting three, four new positive patients every day, they are turning over quicker, their length of stay is shorter.
"I would suggest not as acutely unwell, likely attributable to the vaccines."
A downside at the moment is that the hospital is over-capacity because of other issues as well as Covid patients and an increase in demand for emergency department services is expected.
She said she hopes people will continue to follow public health advice.
"One of my key concerns, obviously my concern is for patients, but also for staff at the hospital and the pressures. It's been relentless, it doesn't bode well for the winter, and staff are disappointed that the announcement didn't come about the boosters for the healthcare workers. But we remain optimistic that it will come."
Health professionals have said there is not one single reason for the rise in case numbers over the last two weeks, such as the spike in Co Waterford.
In Tramore, GP Dr Austin Byrne said there has been a "significant increase" in footfall through the Tramore Medical Centre in recent days, because of "a multitude" of respiratory symptoms, including Covid symptoms.
He appealed to people with such symptoms to stay at home, and to be tested for covid-19, and to seek advice when it comes to symptomatic children.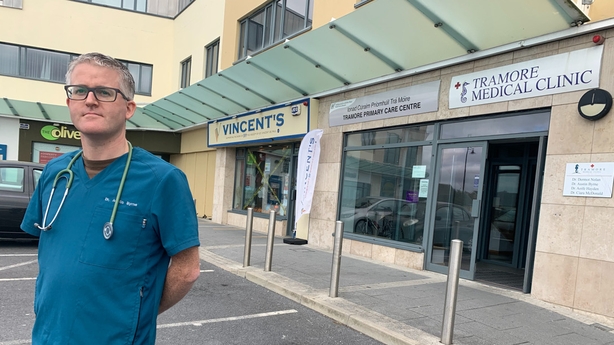 "To be honest, we're not sure [why there's been a sharp increase]. There aren't any specific behavioural changes here that we can pin it to, but it is true to say when we look across the population in a country the size of Ireland that we will see winners and losers in terms of regions.
"It seems more likely, to be honest, that this is due to local chance activity rather than any specific cohort-based activity that's driving the numbers."
He said numbers are likely to continue to rise in the near future.
"We can see the uptick ourselves. We must say, however, boosters are offering significant levels of protection. People are generally less sick than they were last time out, quite considerably so."