Most years in August, the people behind the Spraoi street theatre company in Waterford would be recovering by now from their gala parade, which traditionally draws tens of thousands of spectators to see the latest visual delights.
Not this time around. But instead of waiting for fortunes to change on the pandemic front, Spraoi's trust came up with some different concepts that would allow them to showcase the city's cultural riches but all in a safe environment.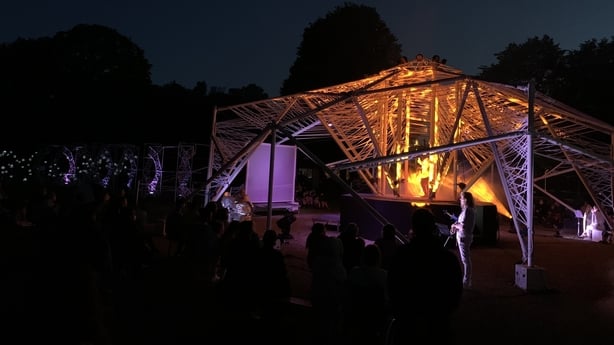 The concept of Prism saw the building of a tent-like structure, using forestry poles, in front of Waterford courthouse and filling it with light - representing white light being broken down by a prism into its constituent colours - as well as music, dance and poetry.
A limited crowd is allowed to attend each night of Prism's run, which finishes this Sunday, and the lucky ticket-holders are ushered from the adjacent Bolton Street car park onto the courthouse grounds, through a "tunnel" of light and onto benches which surround the "prism" itself.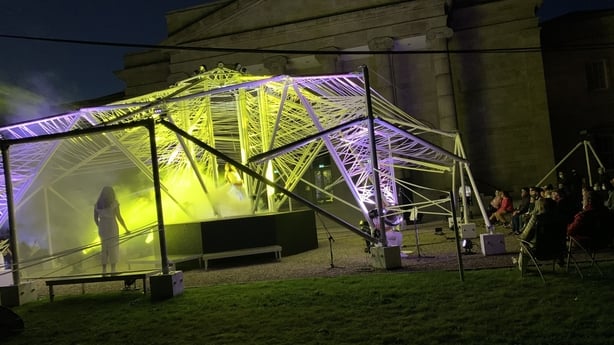 "That's our concept for the show, that we can bring all these different elements together to create something beautiful which is kind of fitting for the times we're in," said artistic director with Spraoi, Mike Leahy.
"We played around with this idea and we just came up with this idea of what different components we could bring together to create this spectacle and event."
Prism's musical element was written by local composer Mark Graham, who is also a lecturer in music at Waterford IT and has worked with Spraoi on and off for many years.
"I play with a band called King Kong Kompany and the reason I play with the band and the reason I'm a lecturer in WIT is because I started working with Spraoi in my early 20s and it was through working with Spraoi that I realised you could put music and technology together.
"I went back to college and did an MA in music and media technology so it's great to be working with Spraoi again... It's also really nice now that I get to employ some of the graduates in music from Waterford," he said.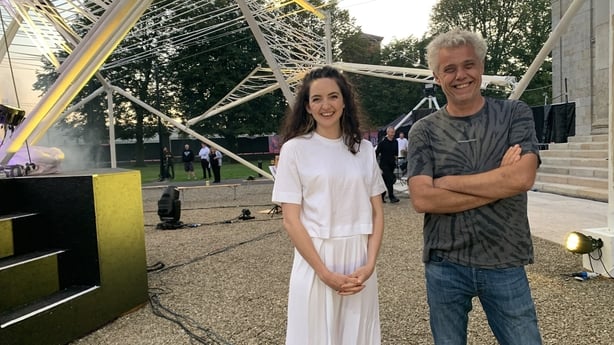 One of the attractions to working on this project was being able to employ local musicians and other performers, he said.
Among those performers is dancer and dance teacher Rachel Ní Bhraonain, who said that the last 18 months have been "turbulent" for people in the arts because of the lack of opportunities to perform.
"I work as a performer but also make theatre myself so I'm seeing it from both sides and also as a dance teacher I've been struggling to get back to that sort of work.
"I feel very privileged to be here and performing, and especially on a show of this scale. It's exceptional and Spraoi have done amazing work to make this happen, with everything that's been going on.
"It's been brilliant craic, the buzz is unreal, no comparison to doing it on Zoom... There's been a lot of emotional reaction from the audience as well, and just joy, really."