The Office of Public Works is confident that Sceilg Mhichíl can be opened to visitors on 1 July.
Bad weather and Covid-19 restrictions on staff numbers have delayed necessary work on the world heritage site, which is famous for its early Christian monastery.
In recent weeks workers have been clearing rockfalls which have blocked the pathways along the cliffs. The construction of visitor toilets and a sanitation station is also continuing. It will be the first time such facilities will be available to visitors on the rock.
Sceilg Mhichíl is normally open from mid-May until late September, but the island remained closed last season due to Covid-19 restrictions.
A later than usual opening date of 21 June had been planned this year, but delays in carrying out essential health and safety work led to the postponement of that opening.
Senior Conservation Architect Fergus McCormick says reopening Sceilg to visitors has proved challenging.
"Weather affects everything on this island in terms of logistics and getting out by boat", he said. "The last few weeks have been particularly bad and it set us back.
"Covid has obviously played a part. We can't have two people staying in a hut, we have to have just one worker in a hut, so that reduces the workforce here on the island.
"Also, we have to accommodate the bird surveys from our partners in NPWS. So, there's a huge amount of things happening on Sceilg at the moment, but we will be opening on the first of July."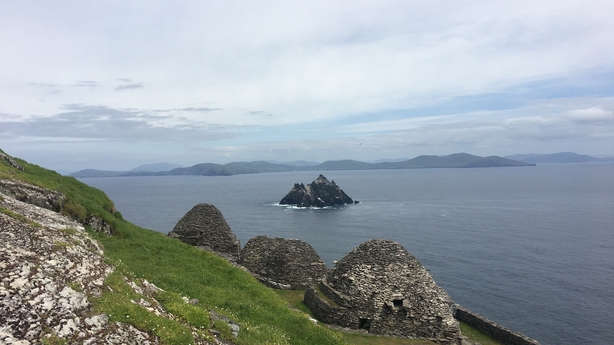 Fifteen boats are licensed to carry 12 passengers on one trip a day to Sceilg. In 2019, over 15,600 visitors enjoyed the island experience. While the number of foreign visitors will be well down this year due to travel restrictions, demand is expected to remain high due to the shorter season this year.
The Minister of State with responsibility for the Office of Public Works, Patrick O'Donovan, visited Sceilg to view the construction and preparations in advance of opening.
He said the reopening of Sceilg was a powerful sign of hope.
"I understand the massive importance of this rock to the south-west Kerry and to the region and to the wider national tourism industry", he said.
"With us being able to open it and bring people back here, I believe it can be used as a symbol of hope for us going forward, out of what has been a very difficult time.
"This is a magnificent place, hewn out of rock in the middle of the Atlantic. It is a jaw-dropping experience. This place is really part of what we are and who we are.
"For the monks who came out here long ago it was about hope in terms of their faith and I think reopening this island is a beacon of hope for us today in our journey out of Covid."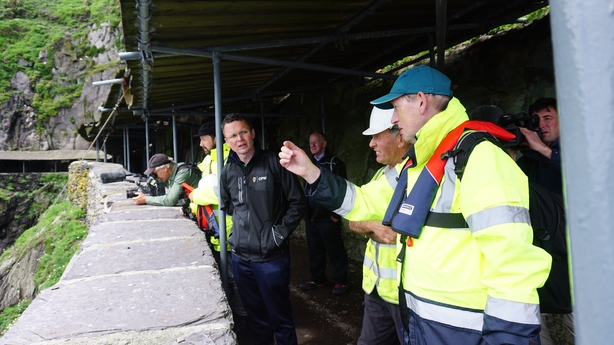 Major repair and renovation work is also continuing on Sceilg's two lighthouses. The Lower Lighthouse will eventually provide accommodation for OPW staff, archaeologists and researchers. The Upper Lighthouse, abandoned in the 1870s, is also being repaired with a view to providing a new visitor experience.
Sceilg foreman Pat O'Shea says the work has been challenging.
"We had to do a lot of work on the old roadway between the two lighthouses, a huge job", he said.
"It was in very poor condition. Lots of spoil and rock had come down over the years covering over the road. Some of the retaining walls had been breached and we had to rebuild it using scaffolding.
"We are lucky to have such a good team with experience, skill and expertise working here on the island."