Local legends speak of heroic battles, magic drawbridges and buried gold, but now some of the subterranean secrets of a Co Kerry fort are being revealed by archaeologists.
Situated at the foot of Ceann Sibéal at the western tip of the Dingle Peninsula, the dramatic headland of Dún an Fheirtéaraigh features an Iron Age promontory fort, 8th century huts and the ruins of a medieval castle.
Often ravaged by Atlantic storms, the rugged cliffs of Ceann Sibéal came to international prominence in 2016 when a film set was constructed there during the filming of 'Star Wars: The Force Awakens'.
Now a two-week excavation and survey of the headland's fort is being undertaken by CHERISH, an EU-funded initiative which focuses on maritime and cultural heritage sites that are at risk from the impacts of climate change.
The exposed nature of Dún an Fheirtéaraigh means the site has experienced significant erosion in recent years.
The aim of the archaeological survey and excavation is to record as much information as possible before further loss occurs.
One of the project leaders Sandra Henry says drone mapping and geophysical surveys using both magnetic gradiometry and resistivity surveys are being employed to generate detailed 3D terrain modelling for the site.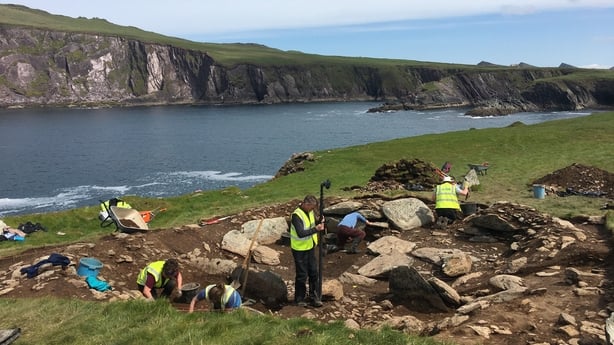 A number of trenches have also been opened along the 600m long peninsula to reveal hidden features and offering clues about habitation and defence on the picturesque headland. Soil and charcoal samples are also being analysed in an attempt to date some of the features on the site.
Archaeologist Muiris Uada says Dún an Fheirtéaraigh represents a very impressive site but one which is very vulnerable.
"It's a very special site which has features from many different eras. It has what appears to be a promontory fort from the Iron Age, which was later selected as the site for a medieval tower house. You rarely get to work on a site like this where you have an awful lot in a very small area.
"Unfortunately, it's under quite a lot of strain. A number of the hut sites have already fallen in to the sea, so it's essential that we get in and record as much as we can in the limited time we have here."
Local farmer Donncha Ó Corráin said the erosion along the headland of Dún an Fheirtéaraigh has accelerated in recent decades.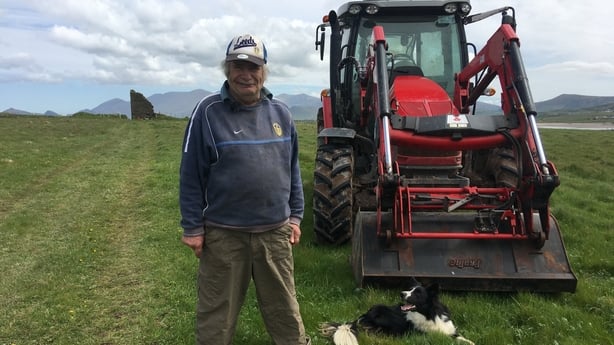 "Another big lump of the cliff up there beside the huts fell there last year. It seems to be getting worse every year. When I was young boy there were rocks along here where fellas would fish from, but now those places are gone. The sea is definitely rising and the wild storms we get here are doing the divil."
CHERISH is a six-year European Union funded project which brings together partners from Ireland and Wales.
The €5.2m initiative is focusing specifically on vulnerable archaeological sites located on reefs, islands and headlands.
Other Irish sites to benefit from CHERISH funding include Sceilg Mhichíl, Clonmines in Co Wexford, and the Skerries Islands in Co Dublin.
The multi-disciplinary project sees the Discovery Programme, the Geological Survey of Ireland and the Centre for Archaeology and Innovation Ireland collaborating with the Royal Commission on the Ancient and Historical Monuments of Wales and Aberystwyth University.
The project began in 2017 and will run until June 2023.
Sandra Henry said that while it is fantastic to be able to record an important site such as Dún an Fheirtéaraigh, a national funding programme is urgently required to record and protect many other sites along the Irish coast.
"We have hundreds of these sites along our coast and they are being lost at a rapid rate. We are seeing them being impacted by rising sea level, erosion, cliff collapse, increased precipitation and various other climate change impacts.
"What a project such as this allows us to do is to gather as much information as possible about the sites we are working on and create a substantial record before these sites are further impacted and further loss occurs."
The medieval castle of Dún an Fheirtéaraigh, which is now in ruins, was associated with the Ferriters, a Norman family who settled in west Kerry in the early 1200s.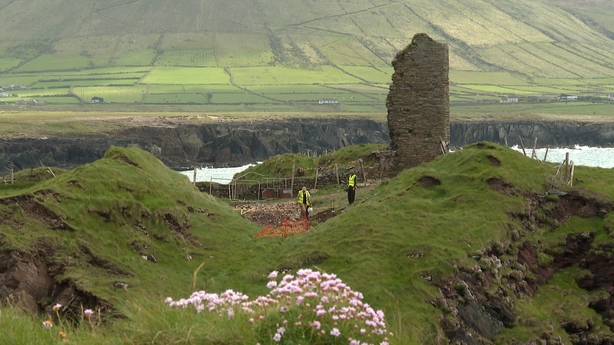 The 17th century soldier and poet, Piaras Feiritéar, executed by Cromwellian forces in 1653, is believed to have been the last of the clan to occupy the castle. The castle took advantage of the pre-existing defensive ramparts of the much earlier promontory fort.
While the primary focus is on documenting the archaeology, the project is also engaging with the local community in collecting folklore and placenames associated with the site.
Mr Ó Corráin says it is fascinating to see what the archaeologists have been revealing on his land.
"We always knew from the old people that this was an important place. Piaras Feiritéar was a mighty warrior and sailor, a mighty man altogether. But now we know there were more houses around his castle. They think they've found a buried well and it's a big surprise to see them find so many huts along the rest of the headland. The crowd digging say they go way back in time. It's like they've found a lost village.
"The old people used say there was gold buried on the western end of the Dún. I've struck a deal with them that they'll give me half if they find it," he chuckled.