There is division in the town of Ennis in Co Clare about the impact of pedestrianisation on businesses there.
The streets have been closed off for much of the day to facilitate social distancing during the Covid-19 pandemic, but many traders say it has been a negative experience.
Ennis has a population of 25,000 and is the biggest town in Munster. It is a vibrant and attractive town with narrow streets and 26 laneways.
But its medieval streets have been closed to traffic during the Covid-19 crisis, as the solution to facilitate social distancing along its narrow footpaths.
The absence of cars and people has made some anti-social behaviour such as street fighting, public arguments, littering and public urination more visible, and it has been a distressing and insecure experience for some.
Denise Fennell runs the busy Fennell's Pharmacy located at what is known as The Height, where the Daniel O'Connell monument is located in the centre of town.
She says closing off the streets each day at 11am has been a very negative experience for her business. It particularly affects deliveries and her customers who can no longer drive up and stop off and collect their pharmaceutical needs.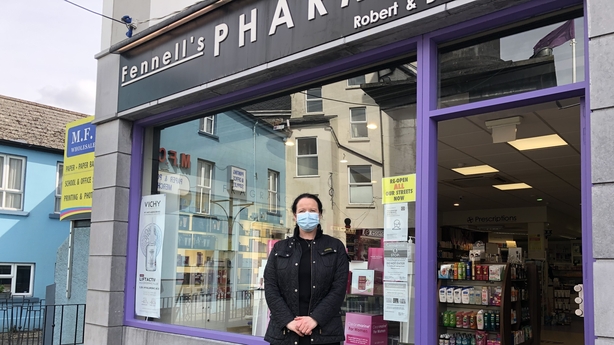 "As soon as the streets close at 11am everything goes quiet and it's a disincentive to people to come into the town," she said.
"It turns into a playground, but not a very nice playground with people fighting, arguing, and littering.
"We're constantly out picking up litter, food packaging and glass. There are bins there but they are not being used. And there is also public urination, which is very unpleasant going on outside our shop door," she said.
"When there are plenty of people around and cars moving through the streets this activity can act as a deterrent to this sort of unpleasant street behaviour," she added.
John O'Connor who runs Custys music shop in one of the laneways just off O'Connell street agrees. He says the lack of footfall and traffic has created a vacuum in the street which has now been filled by what he describes as a nasty sense of insecurity.
"We have set up the 'Retailers of Ennis' group which represents over 70 street front shop owners who are very concerned about how closing the streets has lead to a huge drop in footfall, and diverting shoppers from the town centre to shopping centres outside the town, and this is totally unfair," he said.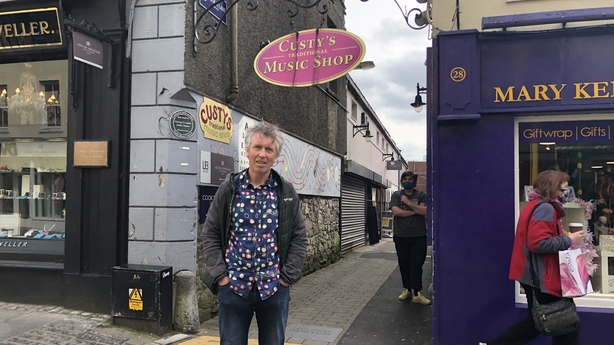 "My wife and family have been working over the shop connecting with college and other matters on WiFi and there are times they are afraid to leave the shop and walk the streets because they feel insecure about this nasty element," he added.
However other retailers and shop owners disagree.
Jean McCabe owns Willow women's clothing store on O'Connell street and is also Vice Chair of Retail Excellence, who says investment in town centres increases footfall and trading by 40%, and it is about creating a shared space which cars and pedestrians can navigate more easily.
She accepts there is division on the benefits or otherwise about pedestrianisation but says the anti-social behaviour witnessed is similar to what any town the size of Ennis is experiencing, and certainly no worse.
"Ennis is a progressive and vibrant town with great retailers and we're looking forward to getting back to business and welcoming our customers and I believe enhanced shared space in our town will certainly help that, when businesses have suffered so much with the impact of Covid," she said.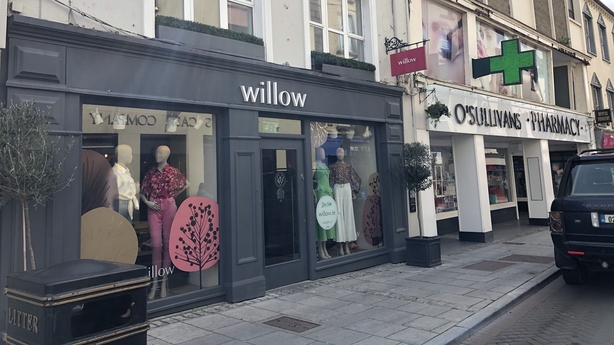 Darragh McAllister, who runs a number of bars in the town and who has been closed for the duration of the pandemic, is current President of the Ennis Chamber.
He says there are shops and retailers and businesses for and against pedestrianisation which has been put in place to cope with how to manage social distancing. However decisions on it being a permanent fixture in Ennis cannot be made just yet.
"It was put in as a temporary feature to deal with Covid, and it would be wrong to assume that because it's there in a pandemic and a lockdown is in anyway a sign of how things might be in the future, and it would have to be put to public consultation," he said.
Carmel Kirby is Director of Physical Development with Clare County Council who says she established a stakeholder group at the start of the pandemic to try and get consensus about how to deal with the impact of Covid on the town.
"The footpaths are very narrow in Ennis's medieval streets, and closing them off and leaving them car free for certain hours of the day was the best way to facilitate social distancing. Closure was between 11am and 6pm each day to facilitate deliveries and food takeout later in the day," she said.
"Businesses have suffered hugely in the pandemic and the priority now is to get businesses back up and running.
"Its now about pedestrianisation being a permanent feature or not, its about making the town work effectively for everyone, and to that end Clare County Council is investing €10 million in building shared space with same-level granite path and walkways, so that all users, pedestrians, wheelchair users and cars can use that space."