There were no reported sightings today of the walrus which arrived in Valentia Island yesterday.
Experts believe the two-metre arctic animal is foraging for food somewhere in the harbour. 
It's thought the walrus came across the North Atlantic from Greenland and it's hoped, once recovered, it will return. 
National Parks and Wildlife Service ranger and marine biologist William Hunt said the animal is badly in need of food and rest after such a long crossing.
"He looked exhausted and fairly emaciated. Hopefully he is out looking for food, foraging for invertebrates and shellfish. We have plenty scallop here in the harbour. But we don't know what condition it's in or if it's capable of doing that. It's also a possibility that it may have left the harbour and moved along the coast."
Five-year-old Muireann Houlihan and her dad Alan were first to spot the walrus yesterday evening, as it rested on a rock known locally as Leac an Éisc.
Today Muireann said it was a very exciting moment.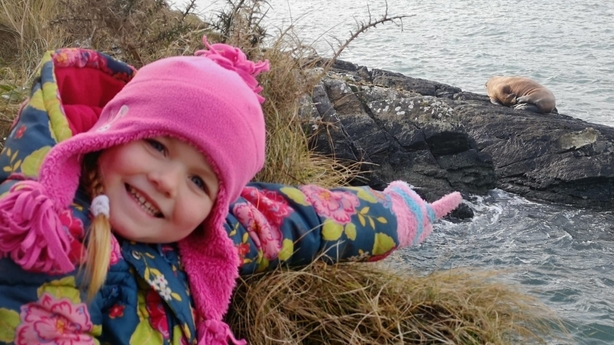 "He had big teeth and big flippers. He looked very happy on the rock. Like he was having a party."
Muireann's father Alan said it was a breath-taking experience to witness the walrus.
"We thought it was a seal first, but then it breached out of the water and hauled itself up on to the rock. We saw these massive tusks and it was a huge animal. We couldn't believe it. It was like a cow or a bull coming out of the sea." 
"It was a magical experience for little Muireann. Last evening after coming home she had the crayons out and was drawing big pictures of the walrus."
We need your consent to load this rte-player contentWe use rte-player to manage extra content that can set cookies on your device and collect data about your activity. Please review their details and accept them to load the content.Manage Preferences
An Arctic walrus has washed up on rocks at Valentia Island in Co Kerry. The walrus, believed to be quite young, is said to be in an extremely exhausted state | Read more: https://t.co/SAss30fbzO pic.twitter.com/JAhMT8VG7b

— RTÉ News (@rtenews) March 15, 2021
Today, islanders were scanning Valentia's rugged coastline today, hoping to spot the new visitor. Liam Lynch said the new arrival was generating "fierce excitement".
"He's getting a great reaction. This fella is a bit of a celebrity here now. He's easily our most famous visitor since the tetrapod came to Valentia and left his footprints on the rock more than 385 million years ago," he said.
Anthony Fitzgerald who lives beside the rock where the walrus came ashore, said he could hear it calling loudly last night. 
"About 10 o'clock last night, suddenly I heard this roaring below the house. It made this very deep gravelly sound, like a great vibrating sound. It was really special to hear it."
NPWS rangers were patrolling the coastline today to ensure people did not disturb the walrus.
"It's a protected species and like any wild animal people need to keep their distance," said NPWS regional manager, Séamus Hassett.
"We're hoping the 5km travel restriction will discourage people from coming to the island and we have informed local gardaí of our concerns," he added.