Farmers in Co Kerry say "out of control dogs" are chasing and harassing their sheep, resulting in broken legs and sheep miscarrying their lambs.
They are calling on hillwalkers to leave their dogs at home when walking on the mountains.
It follows a significant increase in dog-related incidents on Cnoc Bréanainn (Mount Brandon) mountain range in west Kerry.
Farmer John Joe Mac Gearailt says the onset of the Covid-19 pandemic has seen a big increase in the number of people seeking exercise on the hills.
He said: "The problem is some of them are bringing their dogs with them. They are leaving them off the leash for a bit of a run.
"We are seeing these dogs chasing our sheep, hounding them into rough ground where they are breaking legs and driving them over cliffs. I saw six of my sheep killed after being driven off a cliff by a loose dog.
"We have no issue with hillwalkers walking our land. The dogs are the problem. Maybe these hillwalkers think the dogs are just having a bit of fun, but it can have devastating results for the sheep and our livelihoods."
The farmers say that dogs 'worrying' sheep on the mountain has always been an issue, but that the recent surge in the number of people hillwalking has led to a significant increase in incidents and is leading to confrontation between landowners and hillwalkers.
"When we approach them to tell them they should put their dogs back on the leash we are getting abused. It's not a nice thing," said Mr Mac Gearailt.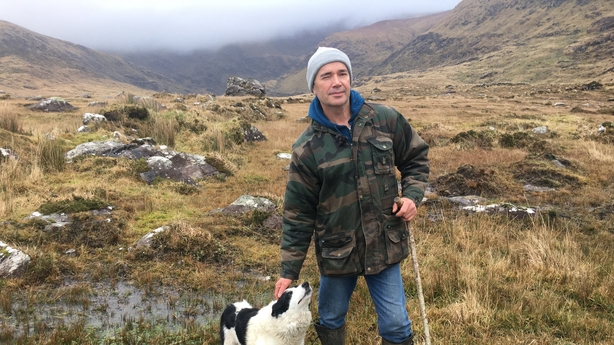 Adrian Breathnach says the problem is more serious at this time of year, as his sheep are heavy in lamb.
"When they are chased its very stressful for them. They are being knocked among the rocks as they run and the result is they are [losing] lambs.
"A dog chased another one of our ewes the last day, we found her and her leg in bits and she's probably lost the lambs. That leg is broken in two places.
"She won't survive on the mountain and is only fit for the factory now. A fine strong young ewe."
Farmers on the Iveragh peninsula have also experienced problems with dogs. June Mahoney says the family has lost three of its cows as a result of being chased by a dog on the mountain commonage west of Kells.
"My husband found them washed up on the shore. It's hard to describe the trauma. Two had left calves behind them on the mountain and the other one was in calf.
"Emotionally and financially it's devastating. It's your livelihood. It's what you get up every day for and it's wiped out."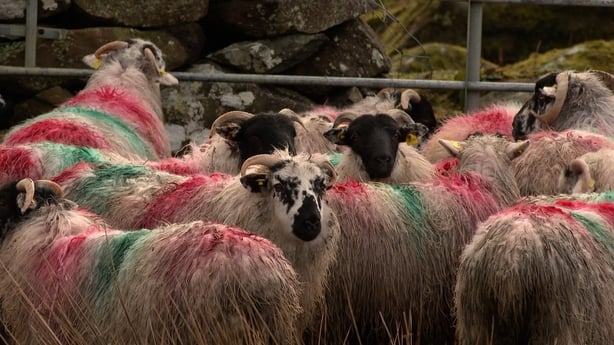 Séamus 'Cosaí' Fitzgerald, a member of the Dingle Hillwalking Club, says people who bring their dogs on the mountain are doing other hillwalkers a disservice.
"We have a simple rule in our club - no dogs. No ifs or buts. Even a dog on a leash can frighten sheep. The sheep doesn't know if the dog is on a leash or not.
"Since the pandemic hit, I suppose people are anxious to get a bit of exercise in the hills and they are bringing their dog along, killing two birds with the one stone if you like. They might not realise the danger of what they are doing, but it's wrong."
The farmers have notified local gardaí about the ongoing issue.
Under the Dogs (Protection of Livestock) Act 1960, farmers are permitted to 'destroy' a dog if it is 'worrying' animals. John Joe Mac Gearailt says the farmers have been reluctant to shoot so far.
"We are all animal lovers. We don't want to be going around shooting other people's dogs, but we must protect our animals and our livelihoods. All we are asking is for people to leave their dogs at home when they are walking the mountains."