Born in Lithuania, a talented Gaelic footballer and a fluent Irish speaker - Deividas Uosis is a young man with an unlikely story and big dreams.
The west Kerry footballer has touched down in Australia, where he will embark on a professional career in the AFL after the Dingle clubman and rising star signed a two year contract with the Brisbane Lions.
A talented goalkeeper, Deividas was a member of the All-Ireland winning Kerry minor team in 2017 and also starred for the Kingdom in last year's U20 All-Ireland championship.
Deividas is the second young Dingle player to make the move 'Down Under' in recent years, following Mark O'Connor's move to Geelong in 2016.
Having signed a contract with the top flight club early last year, the 20-year-old had hoped to be in Australia with the Lions last summer, but Covid-19 put the move on hold until now.
"That's been very difficult and a bit frustrating. I had good support from the coaches in Brisbane Lions who sent me a personalised training programmes. I had to continue training on my own. My brother and my father helped me a lot but it was very difficult to stay motivated. I'm delighted that it is finally happening," he said.
Deividas was four years old when his family moved from Lithuania to Ireland in 2004.
They quickly settled in to the local community in Dingle, with Deividas joining the town's U-6 Gaelic football team. His footballing ability was evident from an early age but playing for Pobalscoil Chorca Dhuibhne in the Hogan Cup brought the goalkeeper to wider attention.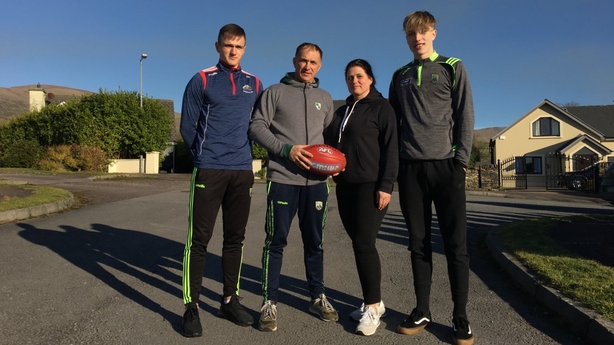 His parents always encouraged their children to embrace the Gaeltacht area's culture. Deividas and his brother Aivaras are now fluent Irish speakers.
Deividas' mother Inga says she is extremely happy for her son but will miss him greatly:
"I'm very proud but also very sad. We know all about emigration and the homesickness that can come with it. But I know he is following his dream and of course we are delighted for him.
"After all his hard work he is getting what he deserves. It's a great opportunity, but as a mother it is difficult watching him go, especially as he is the first child," she added.
Known for his speed, agility and accuracy, Deividas initially caught the eye of Australian scouts at the AFL's Europe Combine in December 2019 and within weeks he had the offer of a two year rookie contract sitting on his kitchen table.
"It was a difficult decision to make as I really love playing Gaelic football with my club and county. But this is an opportunity to have career doing what you love and being a professional sportsman.
"I'm going out there completely on my own. I'll have to make new friends. It's a new country, a new game and I'm starting out on a new life. I'm really excited about it."
Arriving in Australia today, Deividas must remain in quarantine for two weeks before undergoing a medical and joining his new clubmates in Brisbane.
While he says he still has to learn some of the rules of the game, he is confident he can make his mark in the AFL.
"I love everything about the game - the speed, the athleticism, the energy. If you love the game it makes it a lot easier to succeed."