Christmas officially got under way in Waterford city last night, when Santa Claus had some help in switching on the seasonal lights.
The ceremony took place in John Roberts Square in the city centre and on hand to press the switch, along with the big man in red and white, was five-year-old Noah O'Sullivan, whose plight touched the hearts of so many people in recent years.
Noah was there with his parents Debbie and David and brother Jack, and walking around the Square in great style and in stark contrast to his situation a couple of years ago.
"Noah has cerebral palsy, so he couldn't walk for the first couple of years, until last year," his dad David explained. "Last year he went to America, after raising €100,000 here locally."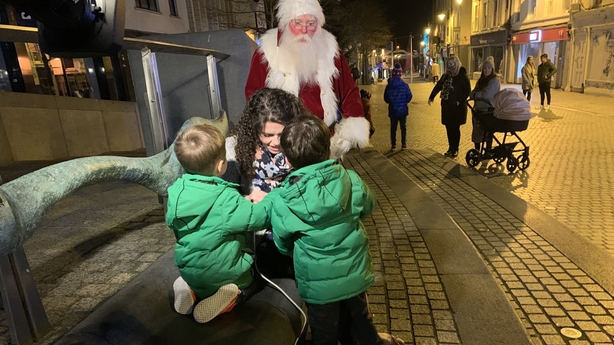 The spinal surgery which took place in St Louis in the United States, thanks to the generosity of so many people who contributed to the "Noah's Wish to Walk Campaign," gave the popular young boy a new lease of life.
"The support we've had from people is astonishing. So pretty much, he's gone from not being able to walk to, as you can see now, he's walking around the place. He started school last September and life has changed a lot for him."
David said it was "brilliant" to have the chance to help turn on the Christmas lights, adding: "His little brother Jack is absolutely loving Santa, I think Noah is a little bit shy! But he's enjoying it and it will be a good memory to look back on."
Noah himself told Santa he would like "an oven" for Christmas, and other kitchen-related goodies, as well as discussing his love of cookies.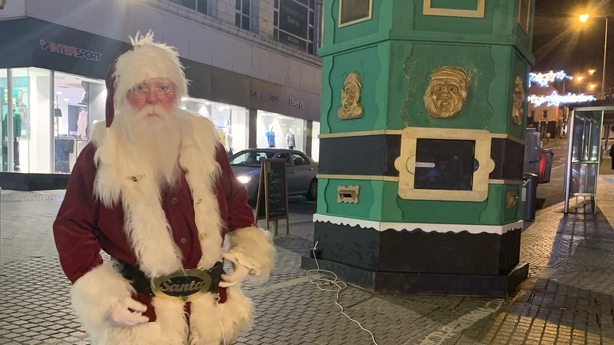 The Mayor of County Waterford, Damien Geoghegan, was also present to help Santa with the big switch-on.
The lights in Waterford include a projected moving light show onto the Cathedral of the Most Holy Trinity on Barronstrand Street, and another projection-based light show at the Granary building on the Quays, as well as a large Christmas tree in the Square.
A scaled-back Winterval festival will get under way on 4 December.