With one of the highest rates of coronavirus infection after the border counties, businesses in Co Clare have expressed their fears about the impact of another lockdown.
The virus has been spreading rapidly in the county over the past month, with infection rates in the Ennis and Kilrush areas now over 400 per 100,000 people - higher than in Dublin, Limerick or Cork.
Many people move in and out of the country for work and education, and Clare is a popular location for visitors from across the country; these may be factors in the spread of the virus and the rising numbers.
While there's an acceptance that the rates must be lowered, businesses say the prospect of tougher restrictions forcing them to close again is heartbreaking.
Bridget Haren runs a busy hairdresser in Ennis, and is a former president of the Hairdressing Council, which represents hundreds of salon owners across the country.
She said it is absolutely devastating that they're facing the prospect of closing their businesses again.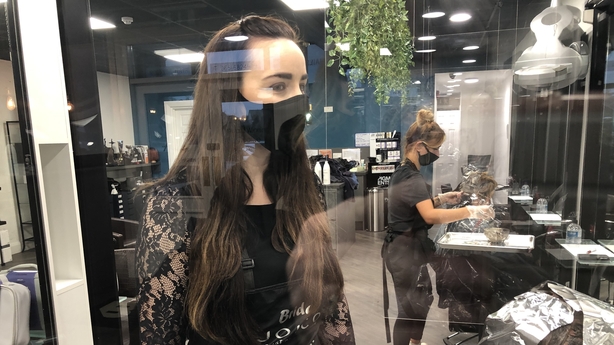 "We were locked down for three months, now open for three months, and despite all we have done to make our businesses safe, we're now looking at being forced to close again," Ms Haren said.
"We know the figures are rising in Co Clare and that is worrying, but we're thinking of our staff and customers and how this second closure will affect all of us.
"I hope the Government at least give us some run in time so that we can organise a timely shut down, and that it's not forced on us overnight as it was in other counties."
Margaret O'Brien, CEO of Ennis Chamber, said the inevitability of further restrictions is very difficult for businesses.
She said that while there is an acknowledgement that the virus figures are rising in Co Clare, as they are across the country, and while everyone knows that the health of people is paramount, many are hoping that the new lockdown can be short lived and effective, and allow businesses and retailers to re-open for the important Christmas trade and recoup some lost revenue.
Ennis GP Dr Maire Finn said the impact of the rising case numbers is visible, with more and more patients presenting at the Ennis Medical Surgery.
She said they have been trying since the summer to catch up on the many medical procedures which were missed because of the early Covid crisis, and now they are faced with big virus numbers again.
"We are at capacity and beyond at this stage," she said, appealing to the community once again to observe and stick to the guidelines, particularly avoiding close contact with other people.
---
Read more:
Businesses warn of serious damage from restrictions
At a glance: What would Level 5 mean?
---
People who are identified as close contacts of a positive case often do not observe the 14 day restricted movements protocol, Dr Finn said, adding that this is very important
Clare County Council has increased its messaging on social media in an effort to remind the public to stick to the Health Service Executive guidelines, in an effort to curb the large numbers in the county.
Mayor of Clare, Cllr Mary Howard, said she is very fearful of more severe restrictions, as the last lockdown was very hard on people - hard on small traders, hard on older people living along, and hard on young people and children.
She appealed to people to make an extra push this time to do the simple things, such as cutting down on meeting people, in an effort to bring the virus numbers down for the benefit of the whole community.