Hotels and small businesses in Co Clare are assessing the impact of Level 3 restrictions.
Ennistymon is a small market town in northwest Clare with a population of 1,000 people. It relies heavily on tourist trade, including regular day trippers from Limerick and Galway.
Sinead Ní Gháirbhith runs a cafe and cheese shop on the Main Street. She buys all Irish farmhouse cheeses from over 40 different producers but says they will struggle to survive a second lockdown. 
"These producers have lost 90% of their customers overnight because their main supply chain is restaurants," she said.  
"I will be amazed if they can keep going. I'll be left with no quality artisan products to sell. All that will be left is mass-produced rubbish"
She has also had to remove her tables and chairs in the seated area of the deli.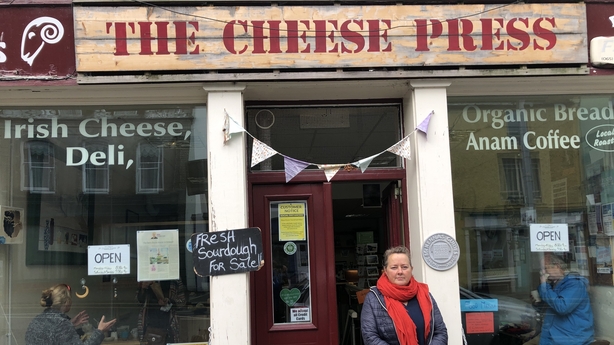 "This was the hub of my store, the place where people came for interaction and conversation. It was a community hub that has been decimated by Covid-19"
She says she understands the need for these public health guidelines but says small business can only take things one day at a time.
Spanish Point along the Wild Atlantic Way is another big tourist attraction in Clare and the Armada Hotel is a very popular choice for wedding receptions.
But now they are grappling with the fallout from Level 3 for a wedding planned this Thursday 
Hotel owner John Burke said the couple have had two previous cancellations and now they have to reduce their guest list to 25 and limit it those in the county of Clare.
Guests who can travel to the hotel by midnight tonight can be accommodated within the guidelines.
"It's huge stress and trauma for couples everywhere who have planned and rescheduled their big day so many times"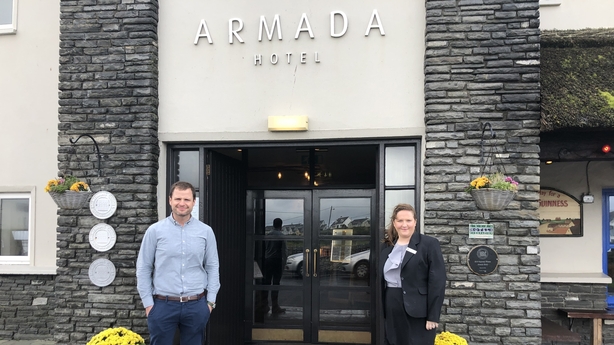 The hotelier said Level 3 threw them a lifeline by allowing them to stay open but whether there is enough business remains to be seen. We are doing everything necessary to survive"
The hotel is fitting our takeaway trucks and cocktail packages as part of their temporary arrangements to operate with Level 3 guidelines.
Grainne McGibney is a wedding planner at the Armada Hotel. She has been in regular contact with the bride and groom ahead of Thursday and says the whole experience has been deeply traumatic for both of them.
"We're working on cancellations and been in contact with suppliers regarding adjusted guest lists and catering plans. But we are pulling out the stops to make Thursday a really special day for them"