Former Vita Cortex workers in Cork have called on the Government to help resolve the long running dispute over redundancy payments for Debenhams workers.
They said they never expected to see a protest like theirs again in the city.
Eight years ago, Vita Cortex workers staged a five month sit-in at the company's Cork plant in a row over redundancy payments which received national and international attention and was finally resolved in May 2012.
They were speaking today after they joined former Debenhams workers outside the Patrick Street store in the city to mark Day 161 of their protest.
Jim Murphy said he thought he would never see a protest like this again.
"I didn't think I would see this length of time again because when we did finish up we were promised that there would be some sort of legislation brought in so that this would never happen again," he said.
"That was part of our agreement when we were finishing up.
"We have three top politicians in Cork at the minute and they should try and put their heads together and sort these kind of things out."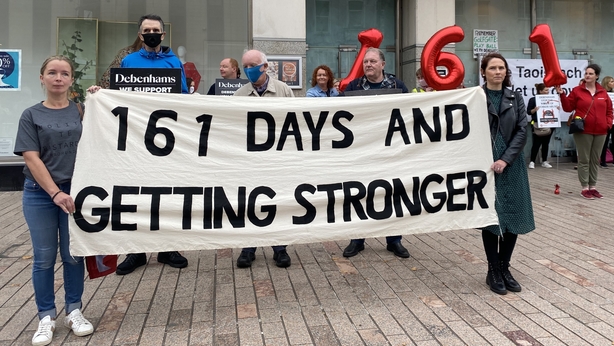 Meanwhile, Mandate shop steward Valerie Conlon accused the Government of giving them empty promises.
"They are saying they really feel sorry for us but they are doing nothing. They say there is no money there, that we are different to Clery's. There is money there, they can pay our redundancy and then go after England for their money but they won't do it."
She said their demand remains the same - two weeks pay per year of service in addition to their statutory redundancy entitlements of two weeks' pay per year.
"We can't back down at this stage. 161 days in all weather, in Covid, and the Covid is getting worse now and they have no problem leaving us out here," Ms Conlon said.
Last week, following a two-day sit-in at the Cork store by eight former workers, one of the Joint Liquidators Andrew O'Leary declined to rule out court action in a bid to remove stock, which has been blocked in stores by the pickets since April.
He acknowledged the plight of the 1,000 workers who lost their jobs when the Irish operation went into liquidation.
However, he told RTÉ News that after over 150 days of protests, the costs the liquidators were incurring by keeping stock in stores and not progressing the realisation of assets was running into hundreds of thousands of euro per month.
He described this as a very difficult situation "because the return to the taxpayer, which was already less than 100%, is being depleted every week".