Business owners from Ennis in Co Clare have held a protest seeking the end of pedestrianisation measures in the town. 
The Ennis Mobility Plan, involving the closure of a number of streets in the town to vehicular traffic was introduced by Clare County Council last May.
The aim of the plan is to ensure social distancing can be maintained and that the streets can be shared safely by both pedestrians and cyclists.
However business owners say that the initiative has led to a big decline in footfall and business in the town.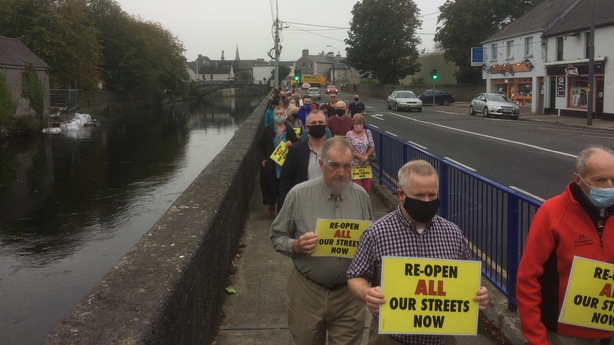 Today up to 100 business owners led a protest from the town centre to the offices of Clare County Council.  
Noel Tierney of Tierney Cycles said that 85% of businesses in the centre of Ennis are opposed to the measures because of the negative impact they are having on their businesses. 
John O'Connor of Custy's Music Shop said that he has had a 60% drop in business.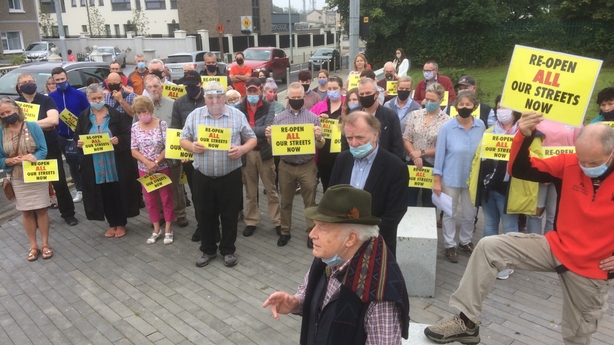 Oliver Moylan who owns a clothes shop said that his family have ran a business on O'Connell Street in Ennis for 140 years.
He said that he fears if the measures are not reversed that his business will not survive another five years.
He added that this week they experienced a day of not making a single sale in a day, for the first time ever.  
A letter seeking the immediate reopening of the streets was handed in to the offices of Clare County Council.  
The authority has committed to reviewing the plans with the stakeholders.