A young man has been hailed a hero following a rescue on a west Kerry beach.
The incident occurred around 4pm when a 10-year-old boy got into difficulty while swimming at Com Dhíneol (Coumeenole) beach near Ceann Sléibhe (Slea Head).
The boy's father and two other male relatives had initially attempted to come to his assistance, but they in turn were also overcome by strong currents and high waves.
22-year-old Mícheál Keogh, from Enfield in Co Meath, was swimming nearby and spotted the four individuals in distress.
Mr Keogh said: "I saw there was a young boy in trouble over to my left and I knew there was a dangerous current where he was. I saw his father tearing in after him and then he got in to trouble.
"And two more relatives came in as well, I think they were uncles. It all happened really quickly. The waves were fairly big. They were being pulled out by the current.
"Another man, whose name I didn't get, ran in to help but couldn't get the boy back to shore, the waves were just too high. But we managed to pull the boy and the three other men as far as a rock in the sea. I told them to cling on to it."
Mr Keogh remained at the rock with the four individuals, while the other man organised a human chain on the beach.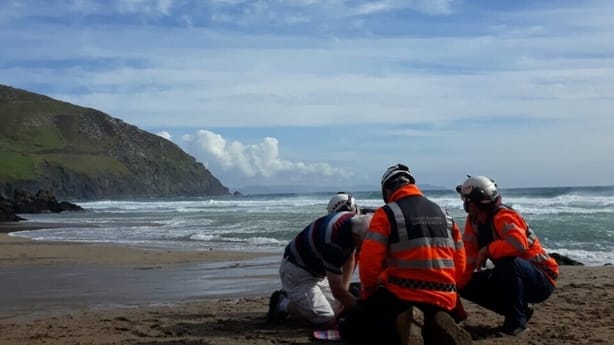 He said: "I took the little boy from the rock first. The waves were breaking and I was still out of my depth, but I was able to lift the little boy above my head and I carried him from the rock as far as the human chain. Then I went back out for the others.
"One by one I just grabbed them under by arm and I swam in with them."
The young boy was in a distressed state and was attended to by a doctor and an off-duty lifeguard who were also holidaying in the area. 
A short time later members of Dingle Coastguard and the Shannon-based Coast Guard helicopter Rescue 115 arrived on the scene, having been tasked by Valentia Coastguard.
The boy was alert and responsive, but was airlifted to University Hospital Kerry as a precaution.
"I was so happy to see that the little boy was ok. I think his name is Jacob," Mr Keogh said.
This is truly heroic. This evening Mícheál Keogh rescued four members of the same family, including a 10-year-old boy. Dingle Coastguard say his efforts prevented a horrendous tragedy. Read on...

Man praised for saving boy, 10, from sea off west Kerry https://t.co/FDZv9HABvF pic.twitter.com/c5pJcJXrEF

— Seán Mac an tSíthigh (@Buailtin) August 26, 2020
Carol Leahy of the Dingle Coastguard described the actions of Mr Keogh as "truly heroic".
She said: "I'm just amazed at that young man's perseverance and courageous efforts.
"He's on holiday here and Com Dhíneol is a notoriously dangerous place. We could have had a horrendous tragedy here this evening if it wasn't for his quick thinking." she said.
Ms Leahy added: "By the time we arrived on the scene the young man had left. He didn't want any big recognition or anything like that. People on the beach had told me what he had done and then I heard he was having something to eat in a nearby café. I went up to thank him for the remarkable thing he had done."
Speaking to RTÉ News, Mr Keogh said he did not think twice when he saw the young boy and his relatives in distress.
He said: "It all happened very quickly. I'm a fairly good swimmer and I just knew I had to do something fast. I think my mother is more shook after the whole thing then I am.
"She was up in the car park and only heard from others what had happened below on the beach.
"She got a desperate fright!" he laughed.