Whale watchers have been witnessing spectacular scenes in recent days as humpback whales engage in a feeding frenzy off the Kerry coast.
Up to 12 humpback whales, along with a number of minke and fin whales, have been chasing large shoals of sprat just off the Dingle Peninsula. 
The whales have spent the last ten days within a few miles of the shore, from Cnoc Bréanainn to Na Blascaodaí, offering a rare opportunity to witness one of the ocean's great wonders.
Nick Massett, of the Irish Whale and Dolphin Group says conditions at sea have been exceptional. 
"It's all action out there. We've got minke whales, we've got the humpbacks and there's fin whales out there as well," he said.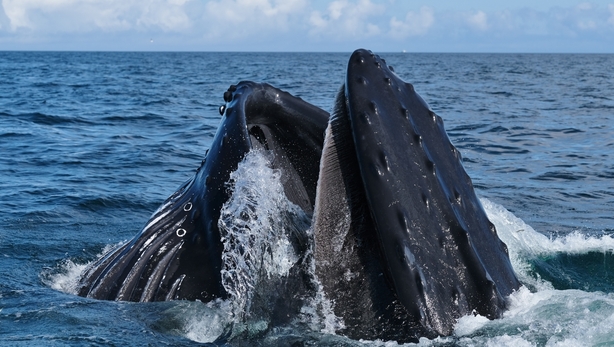 "There's a lot of dolphins out there, common dolphins. And then you've got all the bird species as well, feeding on the same sprat. There's a real feeding frenzy going on out there at the moment." 
The Irish Whale and Dolphin Group has been recording sightings in its Irish humpback whale photo ID catalogue since 1999.
Humpbacks can be identified by unique markings on their tail flukes and dorsal fins. Last month a milestone was reached with the recording of the hundredth humpback to visit Irish waters. 
There have been some exciting sightings of new humpbacks this year, as well as some of the more familiar whales returning.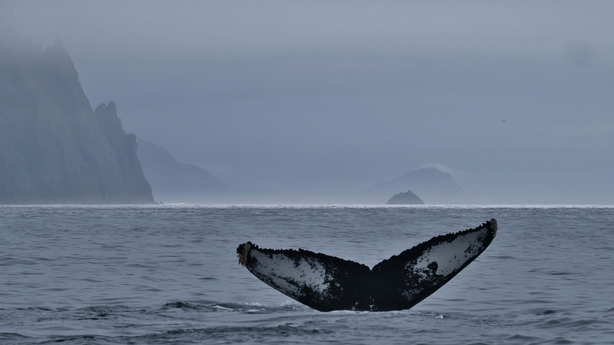 "Some of the animals that are out there at the moment, no. 17 on our catalogue, that's 10 years in-a-row we've documented it off the peninsula. It keeps coming back year after year. That site fidelity is fantastic," Mr Massett said.
"We have new sightings as well. The latest on the catalogue is 107, just spotted the last day, a small little animal, probably only a year and a half old. It's wonderful to see." 
Researchers say the level of activity off the southwest coast has been exceptional this year, with whales feeding unusually close to land, and individual animals spending successive days in the same areas.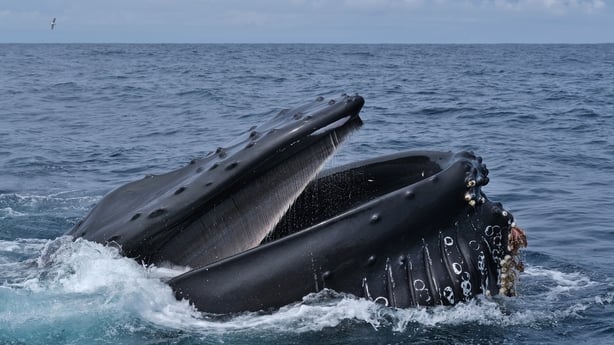 "The waters off here are very productive at the moment. The feed brings the whales and there's an abundance of sprat at the moment.
"The sprat is fundamental to the whole ecosystem here. It brings the whales, the dolphins, and the white fish as well. It's really important for the inshore fisheries that those sprat are out there, in good numbers, and that we look after those stocks of sprat,"  Mr Massett added.
While the approach of Storm Ellen will prevent close encounters with the whales over the coming days, the IDWG is encouraging boaters to behave responsibly and to maintain appropriate distances for the remainder of 'humpback season.'