Fourteen streets are to be pedestrianised and €2 million is being invested in cycling infrastructure as part of a plan to help businesses in Cork city recover from the impact of the coronavirus pandemic.
Street furniture and outdoor dining facilities for around 1,000 people are also being provided under the plan, which is being sponsored by Cork City Council.
The council says the plan represents an acceleration of its aim to make the city centre more people friendly, as well as building a more sustainable future for residents and businesses and for those who visit Cork.
The plan is aimed at helping people like Richard and Máiread Jacob reopen their businesses, as lockdown restrictions are relaxed.
The Jacobs have been running Idaho café on Caroline Street in Cork for the past 19 years. Richard works front-of-house, while Máiread is the café's chef. They employ four other people.
Richard describes Idaho as a village café in a city centre setting - much of what they serve they grow themselves at their home in north Cork.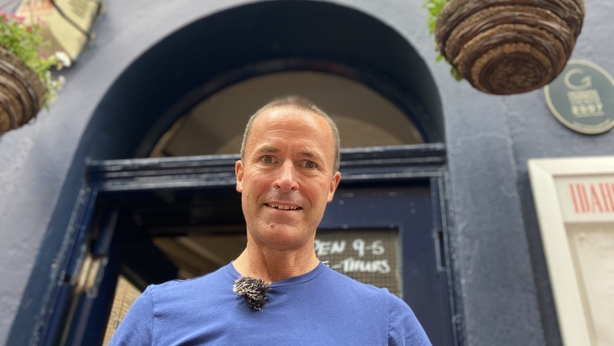 In early March, a week before lockdown restrictions were imposed, they decided that it was no longer safe to keep the café open and they closed voluntarily.
They remained closed for the next four months.
When they reopened three weeks ago, so much had changed. Idaho used to seat 32 people; now its capacity has been reduced to a dozen customers at any one time.
That fundamentally changed the business model and, after almost two decades of trading, threatened Idaho's viability.
Cork City Council arrived with a lifeline, granting free street furniture licences to Idaho and to dozens of hotels, restaurants, bars, wine bars, cafes and take-aways, to create an al fresco dining experience on many newly pedestrianised streets in the city centre.
Street dining has allowed Idaho to accommodate an additional 15 people at tables on Caroline Street outside the café, bringing its capacity close to what it was before social distancing requirements were introduced.
Richard Jacob describes street dining as being absolutely crucial to the future of Idaho café.
"Without street dining, we would have absolutely nothing," Richard says. "We used to seat 32 people; we are seating 12 inside now. It's lovely. It looks beautiful, but it's not a business - it's not viable."
Richard says regular customers were soon joined by new customers who enjoy the outdoor dining experience.
"We have got bunches of flowers from people, saying it was lovely to have us back. We're not allowed hug any more, but the response from customers has been like getting a hug after being closed for four months."
Revealing details of Cork City Council's plans, Chief Executive Ann Doherty said reopening the city after lockdown also offered the opportunity to change and to create a more pleasant environment.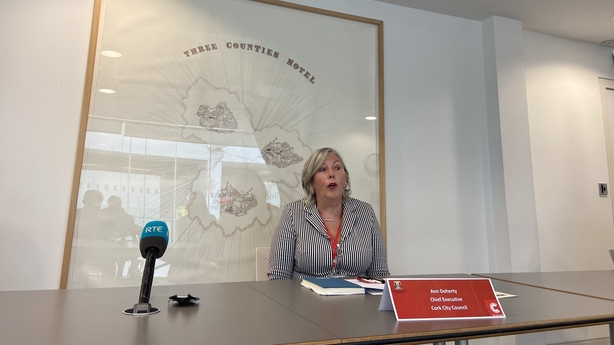 "The ambition for the city that everyone has shared for a long, long time is that of a really modern, European city, respecting the heritage and the culture but also that cultural vibe that it has," says Ann Doherty.
"The al fresco dining really adds to that, and that's what's really important at the moment. So, you've got the safety first and then that whole sense of vibe around the city."
In addition to significant pedestrianisation in the city centre, Cork City Council's plans include a €1.5 million investment to repair 6km of existing cycle lanes, the installation of bollards on 4km of key cycling routes, 4.1km of new cycle lanes at Centre Park Road and Monahan Road, Terence MacSwiney Quay, Horgan's Quay, Victoria Road and South Mall, along with the construction of 43 bike racks, which can accommodate approximately 500 bicycles.
The programme is supported by the National Transport Authority.
"Economic and social recovery against the backdrop of Covid-19 presents unprecedented challenges for communities and businesses in Cork. We need a shift in perspectives, a re-imagining of Cork and high levels of partnership and collaboration if we are to mitigate the impact of the pandemic," Ann Doherty said.
Lord Mayor of Cork Cllr Joe Kavanagh said: "The changes mean that up to 1,000 residents and visitors to the city can eat and drink alfresco - thereby supporting social distancing and local business."
Cork City Council has commenced a consultation process for the preparation of a new city development plan.
Streets being pedestrianised include Princes Street, Tuckey Street, Pembroke Street, Caroline Street, Little Anne Street, Little Cross Street and Harley Street, while Emmet Place and Paul Street are partially pedestrianised with local access allowed.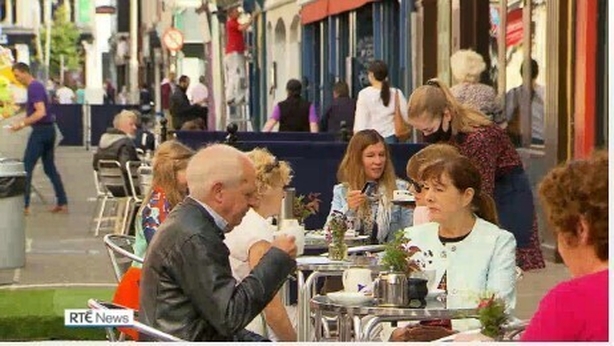 It is expected that consultation will begin shortly to extend Oliver Plunkett Street's pedestrianisation after 5pm to possibly late night in line with neighbouring streets.
Up to 4.1km of new cycle lanes are to be developed on South Mall, Horgan's Quay, Terence MacSwiney Quay, Centre Park Road, Monahan Road and Victoria Road. Works are due to start this month on Centre Park Road and Monahan Road with the remainder beginning in October and November.
Another €1.5 million of resurfacing and relining is to begin on 6km of existing cycle lanes in October and new cycling protection will be installed on some of the city's most popular cycle lanes next month, so that cycling remains attractive post-lockdown.
Resurfacing will take place in the city centre at Gillabbey Street, Proby's Quay, Rossa Ave, Ballincollig, Kinsale Road, Mahon Link and Douglas.
Up to 4km of bollards will be installed at Alfred Street, South Main Street, Washington Street, near UCC gates on Washington Road, Rossa Avenue, in Mahon Point, Ballincollig, Mulgrave Street.
Furthermore, more than 43 new bicycle racks are being installed across the city with 10 going shortly to a new indoor space at North Main Street Shopping Centre, another two sponsored racks being put in place at Ballincollig Regional Park and Lapps Quay this month, 11 more going to various locations in the city centre in the coming weeks and approximately another 20 being installed in the final quarter of the year.
These racks will enable the safe parking of approximately 500 bikes.
The National Transport Authority has also agreed that the public bike scheme will be expanded to locations at Cork County Hall, Mardyke Walk, Gaol Walk, Brookfield, Dennehy's Cross, Cork University Hospital, CIT, Model Farm Road, Kenley, Connaught Avenue and Albert Quay/Victoria Road.
An audit of the condition of existing docking stations will also take place.