Former Debenhams workers in Cork city have turned away three trucks attempting to remove stock from its Patrick Street store this morning.
It comes as their demand for a fair redundancy package is to be raised in the Dáil later today.
Yesterday, two lorries which attempted to remove concession stock were blocked by the retail workers and eventually left empty.
The workers have been officially picketing the company's 11 Irish stores for the past 13 weeks calling for a fair redundancy package.
The Irish operation closed suddenly in March with the loss of 2,000 jobs.
Madeline Whelan, who worked with the company for almost 30 years, said there has been no communication from the company or liquidators KPMG.
"Pickets outside the store are 24 hours a day at the moment. We want resolution," she said.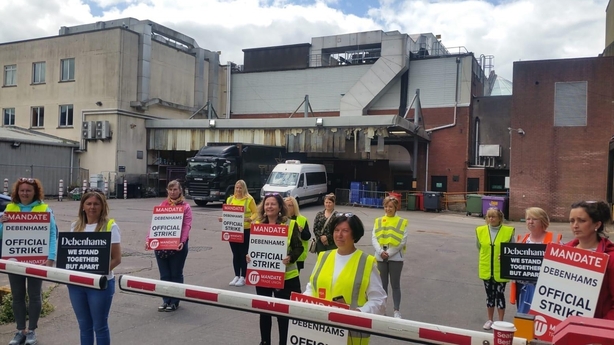 "It's grand coming out showing support for us, but we need to see some concrete action. We want resolution."
Speaking on local radio, Cork's Red FM, local Solidarity & Socialist Party TD Mick Barry said he will be calling on the State to intervene.
Mr Barry said the State should consider taking over some of the more profitable Debenhams stores as part of its July stimulus or at the very least ensure there is a "decent redundancy package for these workers, some with over 40 years' service".
He is also calling for a fast tracking of legislation that will protect workers' interests when companies go into liquidation.
"It was promised that no workers would be treated like the Clearys workers but here we have it again," Mr Barry, said referring to the sudden closure of the Dublin store in 2015, and the loss of 460 jobs.