Allowing patches of ground on the Waterford Institute of Technology campus to grow wild has led to the discovery of a rare flower.
WIT signed up to the national pollinator plan last year and one of the policies introduced was to designate various pieces of land on the main Cork Road campus as pollinator areas, limiting mowing and giving wildflowers the chance to grow.
During one of his visits to the largest of the meadows, close to the student accommodation buildings, horticulture student Sean Keane made the exciting find along with his lecturers Yvonne Grace and Dr Cara Daly.
"Just before lockdown, the college had really upped its game as regards the pollinator plan and we put in loads of actions. For me, it was great, because this was my area of interest," he explained.
"I was looking at different flowers as they came up and there's been so many bees here, feeding on all the shrubs - not just the wildflowers but so many shrubs and trees… We were just walking along, inspecting the meadow behind me and we came upon the rare bee orchid, Ophrys Apifera.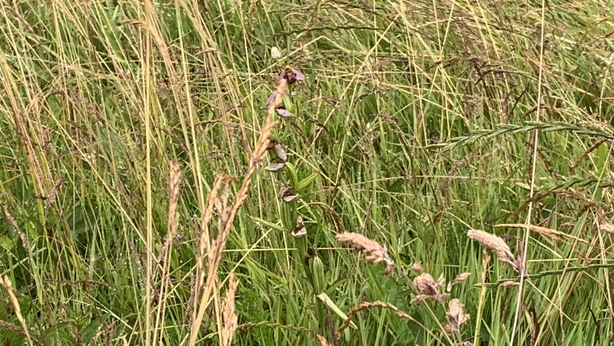 "It was a really poignant find for us, because we know from studying all this in college that these orchids tend to appear in areas where reduced mowing has been implemented, so it was a really big thing for us here, to see the orchid."
The hope now is that, with the meadow left alone, in the coming years the orchid will appear again and again, with maybe some more of its species along with many other types of wildflower.
Lecturer at the Department of Science in WIT, Yvonne Grace, said the discovery of the bee orchid was proof of how quickly nature can bounce back, when allowed.
"One-third of our bees are actually in danger of extinction, so it's so important, a simple action like this, reduced mowing… It's brilliant to have that fantastic find of the bee orchid.
"There's a greater awareness now among the public, they know what to look out for, they're more informed, so it's a win-win."
Other measures introduced on campus include bee hotels, to encourage nesting among bees. "By providing bee nests, we're providing more habitat for them so they can forage here on site and they can nest as well."
The All-Ireland Pollinator Plan is currently in the process of being reviewed, with a new five-year blueprint due to come into effect next year, so members of the public are being encouraged to submit ideas for pollination.