Communities in Co Kerry have expressed anger at an increase in unauthorised camping and large social gatherings on beaches and in woodlands.
A number of recent beach parties have resulted in dune fires and significant littering.
Locals in Baile an Sceilg on the Iveragh peninsula say over 50 young people gathered for a beach party last Saturday night, leaving the well-known beauty spot badly littered, requiring volunteers to mount a major clean-up.
Local woman, Caitríona Uí Churráin said the beach was left in a disgraceful condition.
"Broken bottles, hundreds of nails from the burnt wooden pallets which was used for the bonfires, shoes, jackets, medications, inhalers, bras etc leaves a sad reflection on the youth," she said.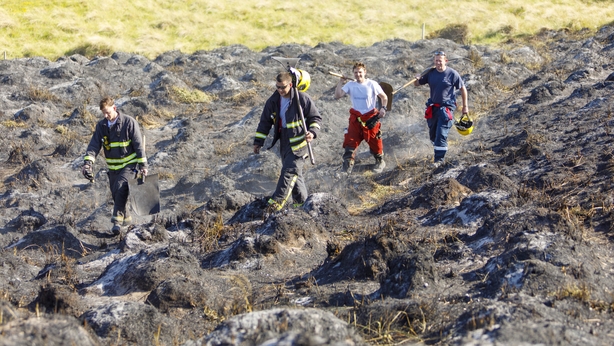 Over four acres of dune was scorched during another party on Banna Strand the previous weekend, leading to calls from local representatives for greater supervision and protection of beaches.
In west Kerry two brothers discovered a wild camp in private forestry adjoining their farm near Baile na nGall. Pádraig and Seán Ó Murchú say there were up to six people living there for a number of weeks before gardaí instructed them to leave - but they have left a mess behind.
"They have dragged in couches, furniture, tents, rubbish, kegs of Guinness and there are hundreds of bottles and cans thrown around the place. They probably thought it was the cool thing to do, with nowhere to camp because of Covid. They've left a disgraceful mess." said Pádraig Ó Murchú.
"They were lucky they weren't burnt alive. These woods are as dry as a bone for the last month. Fire is a big danger in a place like this and they were lighting bonfires left right and centre," added Seán.
Holiday and caravan parks are set to open on the 29 June but at reduced capacity. Bríd Moran of Wavecrest Caravan and Camping Park in Caherdaniel says there has been unprecedented demand as the Irish holidaymakers opt to holiday at home this year.
"We had to close down our booking system on Monday. We were getting hundreds of e-mails. We are completely booked out for July and August.
"We will be operating at reduced capacity to reduce the demand for our on-site facilities. We are encouraging people that have a caravan or motor home with their own toilet and washing facilities, to use them. We've had to reduce the amount of tents we can have on site because they will need to use the facilities here."
Kerry County Council says its current policies in relation to the management of beaches is informed by the relevant national Covid-19 guidance, but that camping on beaches or associated dune-systems is strictly prohibited under the local authority's Beach Bye-Laws.
The council says that issues of large social gatherings are primarily one for gardaí.