A new exhibition at Waterford's Central Library marks 25 years of the Waterford Women's Centre, as well as honouring some local women who made major contributions to society over the years.
The exhibition, which runs until 27 March, has opened to coincide with International Women's Day, which takes place on Sunday.
Among the events running alongside the opening was the unveiling of a plaque to Margaret Daly and her daughters Mai and Debbie, who ran what was locally called the "poor man's café" on Arundel Lane in the city for over 70 years.
During that time, some of the most marginalised men in society availed of the Dalys' kindness. Often they were homeless or unemployed, or employed on a casual basis on the nearby docks with no guarantee of a living income.
The new blue plaque is located on Arundel Lane.
"We're celebrating 25 years in Waterford," co-ordinator Breda Murphy said. "The Women's Centre is part of 17 across the country, the national collective of women's community networks, who will all be celebrating International Women's Day.
"Over the last eight years, we've have been working at developing a women's history project in recognition that a lot of women are written out of history, or never in there in the first place."
In recent years, the centre has used the occasion to erect blue plaques in historic locations to recognise some notable local women.
Others include writer and equality campaigner Rosamund Jacob.
Also remembered are women from the area who were convicted, often for little reason, in the 19th and early 20th centuries and transported to Tasmania.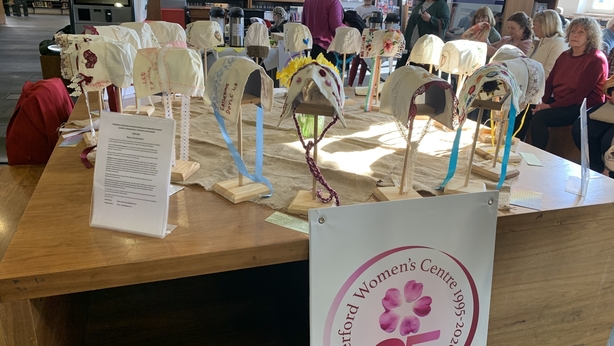 "The bonnet exhibition is part of the Roses from the Heart exhibition. Every year we do about ten bonnets and each woman in the group picks a bonnet and picks a name and decorates it an many of the women have never sewed before so it's a great exercise in remembering the women and also in sewing."
Robert Lanigan, a nephew of Mai and Debbie Daly, said the women involved in the "poor man's café" were "unassuming women" who helped people who had fallen on hard times but would never have looked for any recognition.
"For the family: for myself, my brother and my sister, it's a great honour and we thank the people for what they did," he said.
"Because they weren't just three ordinary women, they were three exceptional women, and to see a plaque going up for them, at the house where they were born in and reared in, it's great for the family."
Finishing off the weekend's events in Waterford will be the "Well Girl" 7km walk, which begins and ends at Carriganore Car Park and takes in Mount Congreve along the way on Sunday.
The run will be officially started by Green Party MEP Grace O'Sullivan and led by Olympic walker Kate Veale.
Registration for the walk is at 10am or online at waterfordwomenscentre.com