A mural to mark the 100th anniversary of the election of Tomás MacCurtain as the first republican Lord Mayor of Cork was officially unveiled at his former national school today.
The outdoor painting was commissioned by the North Monastery National School to mark the centenary and depicts some of the school's most famous past pupils.
Among those included in the mural by artist Alan Hurley are former Lord Mayor of Cork Terence MacSwiney, the late taoiseach Jack Lynch; sportsmen Tomás Mulcahy & Seán Óg Ó hAilpin; the late actor Niall Tobin and famous rock guitarist Rory Gallagher.
Vice-principal Colin Daly says that according to school folklore, the music legend played his first rock concert in the school hall.
Among those who attended this morning's event were Fionnuala MacCurtain, granddaughter of Tomás MacCurtain, and Cathal MacSwiney Brugha, grandson of Terence MacSwiney & Cathal Brugha.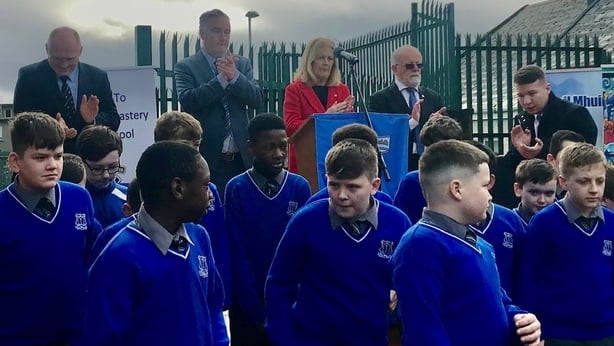 Fionnula Mac Curtain told the gathering of current and former past pupils that you don't have to die for Ireland to be a good Irishman.
"You don't have to die for your city or your country; you can live for it and be very special."
"I hope that when this year is out you won't just remember him because he was shot. You will remember that he was actually a teacher, he played music, he was a family man, he had a business.
"So rather than just remember that people died for Ireland, try and look and see what people contributed."
Later this evening, Cork City Council is to hold a Special Meeting at City Hall to commemorate the first meeting of Cork Corporation elected by proportional representation.
That meeting on 30 January 1920 also saw the election of Tomás MacCurtain as the first republican Lord Mayor of the city.
MacCurtain was shot dead in front of his family in March 1920 by members of the Royal Irish Constabulary. His successor as Lord Mayor - Terence MacSwiney died while on hunger strike in Brixton prison in October 1920.
The commemorative event is the first in a programme of events in Cork to mark the 1920 centenary, a pivotal year in the city's and country's history.