An 83-year-old west Cork farmer with a passion for bog oak opened his first exhibition tonight.
For decades Joe Kelly has been finding pieces of ancient bog oak while cutting turf on the family farm.
Recently, he began creating unique and imaginative works of art, having stored the wood in a shed for many years.
Mr Kelly will exhibit his work in Ionad Cultúrtha Baile Mhúirne.
He says his newly found passion has given him a new lease of life.
"I love it. You're working with something very old, maybe 5,000 years old. When I come across a piece, cutting turf or ploughing, I always see something in it, I imagine the shape of something.
"It's very easy to work with, once you have it properly dried and it's good and hard. If you have a good edge on your chisels you'll cut through it like a pound of butter."
Amongst the works created by Joe are 'The Crocodile', 'The Dragon' and 'Australia's Mother.'
"When I saw the terrible fires in Australia I wanted to make something. She's Australia's mother, an Aboriginal woman. As she looks out across her country she sees her land and all her wild animals burned.I think she is crying."
Catherine Cronin - a Co Galway-based experienced bog oak artist - will exhibit alongside Joe.
She says the Cúil Aodha man has a very creative eye.
"I see in Joe's work - the same as my own - an appreciation for the past. He has an eye for turning what could've been just left rotting in a bog, it in to something so beautiful. He has a great eye for spotting a special piece of oak."
Mr Kelly says he was always fond of bog oak put never thought of creating art with it.
"I remember as a young fella cutting turf with my father, or ploughing with the horses, and we'd meet a big lump of this stuff and we'd be cursing it. It used give us fierce trouble trying to dig it out. 'Tis amazing what a bit of carving and oiling can bring out in it. The colours are spectacular."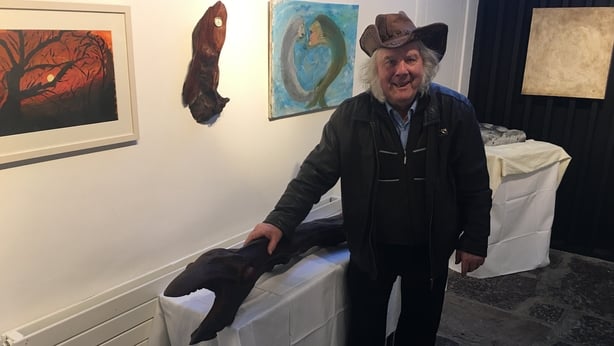 Some of Joe Kelly's work is inspired by personal experience.
"I have a piece here called The Phoenix. I made it in memory of my wife Joan, who died in 2001. I suppose the phoenix rising from the ashes represents the passing from this life to the next."
He says he has many pieces of bog oak stored in his sheds and will look forward to creating pieces of art from them.
"I suppose I'm a budding artist at 83 years of age. I reckon if you give me another ten years I'll be very good altogether!"
The exhibition will run in Ionad Cultúrtha Baile Mhúirne until 25 February.