Over 200 people have turned out at a protest in Limerick this evening calling for the reversal of RTÉ's plans to close the Lyric FM studios in the city.
The protest is taking place at the Irish Chamber Orchestra Studios in Limerick.
Production for Lyric FM is planned to take place from Cork and Dublin in the future. 
Lyric FM has been broadcasting from Limerick since 1999 and currently employs up to 30 people, many of whom live in Limerick and in Co Clare. 
The announcement of the end of production of its national classical music and arts service Lyric FM in Limerick is one of a series of measures announced by the national broadcaster aimed at reducing costs at the station by over €60 million over the next three years. 
The announcement has been widely criticised by political and culture organisations in the midwest.
Over two hundred people have attended an event in #Limerick calling for a reversal of the RTÉ plan to close Lyric FM studios in the city pic.twitter.com/CcIszNv8zR

— Tomás O Mainnín (@omainnintomas) November 14, 2019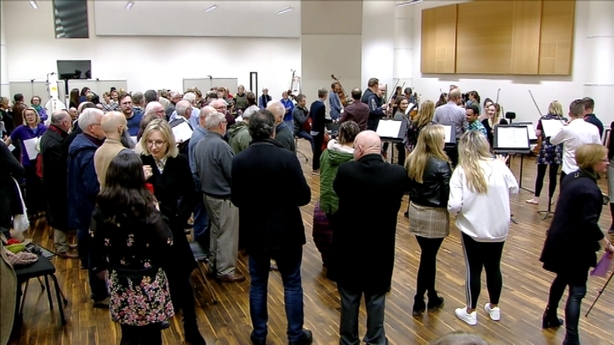 This evening's protest includes members of the arts and culture community from across the region calling for a reversal of the decision. 
Speaking in advance of the protest, Louise Donlon, director of Limerick's Lime Tree Theatre and a former member of the Arts Council, said: "Lyric is at the heart of our cultural life here, both in terms of its location in the Cornmarket area of the city, but also its support and promotion of the arts and culture in the region.
"If this is allowed to happen, balanced regional development will be unimplementable and will mean nothing.
"What employee will ever consider decentralisation in the future if decisions can be reversed 10, 15 or 20 years down the line, with no thought to the impact on people's lives and families?" she asked.
The protest takes place in advance of a special meeting of Limerick City and County Council, which is to take place tomorrow to discuss the decision by RTÉ to close the Lyric FM studio.
Lyric FM staff are expected to meet members of the Oireachtas in Leinster House next week to discuss the implications of the announcement.