Psychiatric nurses have staged a protest rally outside University Hospital Waterford to highlight overcrowding at the Department of Psychiatry.
The 44-bed unit has come in for criticism lately, with nurses describing conditions as "intolerable" for patients and staff, while the Mental Health Commission is also focussing attention on the service and is due to meet the HSE in the coming weeks to discuss the unit's future
Photographs circulated online last week appeared to show a patient lying on the floor of the unit as well as chairs and blankets arranged as a makeshift bed, with the HSE acknowledging that over-capacity issues can arise at times.
The Psychiatric Nurses' Association said that up to 10 additional people were admitted to the unit last week, along with the capacity of 44, prompting calls for investment in the unit.
Up to 100 people, many of them nurses, attended today's protest outside UHW and heard calls for an end to overcrowding and increased Government investment in mental health services.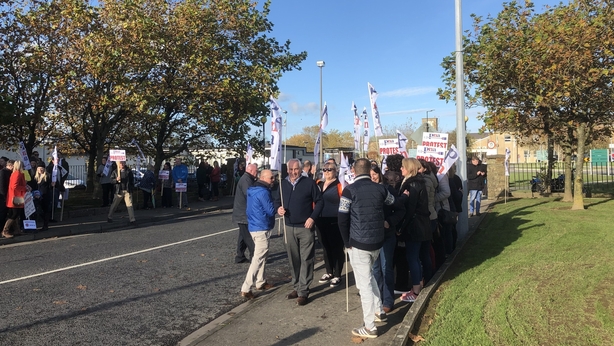 "We're at the stage now where it's critical," psychiatric nurse Deirdre Smith told RTÉ News.
"We can't do our jobs, we're trying to upkeep the dignity of the patients here and be an advocate for very vulnerable people and we can't do it at the moment."
She said more staff and community services are needed in Waterford.
"They can't retain staff at all because they're leaving to go to Australia and the working conditions are just intolerable at the moment."
General-secretary of the PNA, Peter Hughes, said the conditions found in the unit at times are akin to something from the 1940s.
"It needs to be addressed urgently," he said.
"It's going on in this service for two years… We're now in 2019, it's totally intolerable and it's unacceptable that this practice should be continuing in this service. We want an end to overcrowding immediately, we have an issue with under-staffing and under-resourcing and those areas need to be addressed."
RTÉ News understands that the Mental Health Commission conducted an unannounced spot check at the unit last night and a meeting is due to take place in the coming weeks between the HSE and the MHC to discuss the unit's future.
Registration of the facility is due to be renewed next spring.