Up to 1,000 secondary school students have been attending SHINE19, a special event being held in Waterford as part of International Day of the Girl.
The event at the Waterford IT Arena was organised by the Shona Project, a social enterprise founded by Tammy Darcy "with the aim of educating, empowering and inspiring young Irish women".
Today's gathering was the biggest held to date by the Shona Project, who already go around to schools giving talks to students on the challenges facing teenage girls today.
They have also taken the opportunity to launch their Survival Handbook for Girls which is aimed at first year students and has information and advice for getting through secondary school.
Among those addressing the students today in Waterford were Syrian-born journalist Razan Ibraheem; fitness instructor Mags Murphy; psychologist Niamh Fitzpatrick; and life coach Sarah Doyle; with music by singer-songwriter Soulé.
They were also joined by Waterford-based Mount Sion Choir who have been gathering a huge online following in recent months thanks to their performances both locally and elsewhere.
"What we wanted to do was bring 1,000 girls from schools all over the southeast here together, to hear from a panel of inspirational women, to get up and move, to make friends, to share everything that it means to be a girl," Tammy Darcy told RTÉ News.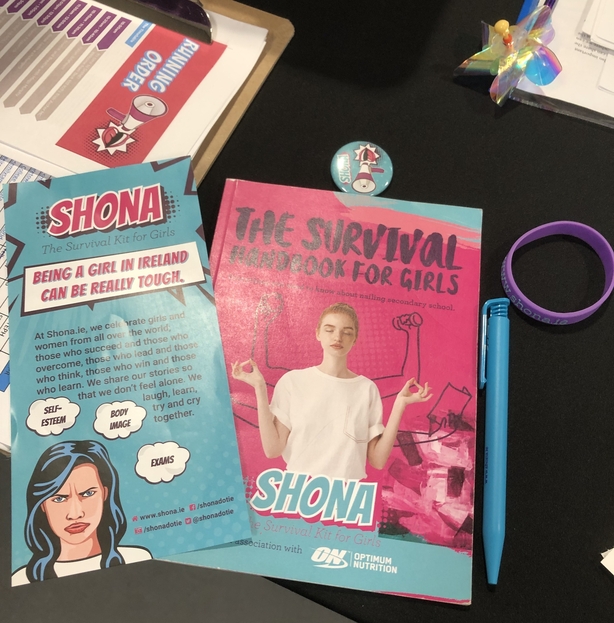 Already, 20,000 copies of the "Survival Handbook for Girls," have been distributed around the country, to first-year students, with more to follow.
"Everything you need to know about nailing secondary school," is the message behind the handbook and it's divided into four sections: "your heart, your mind, your body, your world".
"We deliver workshops all over Ireland to girls in schools and we've seen the challenges facing them," Ms Darcy explained.
"Our young people are facing a mental health crisis at the moment and so many girls struggle with anxiety and panic attacks so we just want to give them some life skills, some information and some advice that will help them through those secondary school years."
In relation to the book, she said that they wanted to "address absolutely everything that young women are faced with, including self-esteem, mental health and online safety, to create a comprehensive handbook that is the companion my generation never had".