Twelve men have been disqualified from driving for two years after being found guilty of dangerous driving during the Rally of the Lakes festival in Killarney last May.
The court appearances follow a major garda clampdown and covert investigation locally into the activities of so-called boy racers during the annual festival.
Ten of the 12 men were charged with dangerous driving at Derrynafunsha, Blackwater, Kenmare - a remote scenic area near Moll's Gap on 5 May between 1.30pm and 4pm on the N71 Ring of Kerry Road - after a stage of the Rally of the Lakes had just ended.
The two others were charged in connection with incidents the day before at the same location, and at Ballyhar, near Killarney in the early hours of 5 May.
Inspector Paul Aherne told the court that in all cases the drivers were observed and recorded by plain-clothes gardaí doing doughnut manoeuvres on the public road with as many as up to 100 members of the public nearby.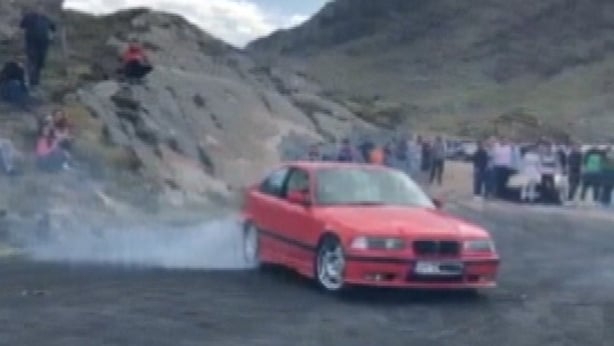 Solicitor Padraig J O'Connell who represented a number of the drivers applied to have the Section 53 dangerous driving charge reduced to a Section 52 careless driving charge but this was rejected by Judge David Waters at Kerry District Court in Killarney.
Judge Waters said if the road was open, and it was in the middle of the day with pedestrians about, he could not countenance a charge of careless driving, it had to be one of dangerous driving.
In one case, the court was told that Chris O'Sullivan, an apprentice mechanic, of Dromnevane, Kenmare, was observed by undercover gardaí doing three clockwise doughnuts, four anti-clockwise doughnuts, and a figure of eight, spinning in close proximity to two cars trying to pass at the time.
In another case, a solicitor for 33-year-old Andrew Higgins - a self-employed plasterer, from Clarecastle, Ennis, Co Clare, apologised to the court on behalf of his client saying he got caught up in the moment - "it was a moment of madness for him".
The court heard that he did a total of five doughnuts in close proximity to people.
James O'Sullivan, from Ballyhasty, Cloughjorda, Co Tipperary, pleaded not guilty to dangerous driving.
However, he was found guilty after the court was shown CCTV footage and heard evidence of undercover gardaí observing plumes of smoke, cars abandoned on the side of the road, and O'Sullivan doing several doughnuts in his car near to members of the public.
Matthew Tyrrell, 22, of Drumsna, Co Leitrim, was charged in connection with an incident that happened the day before at the same location witnessed by an off-duty garda.
The garda saw Tyrrell perform doughnuts around a man standing in the middle who was filming. At one stage the garda thought he was going to be hit by the car.
In another incident at Ballyhar, gardaí observed Darren Coyne from Charlestown, Co Mayo, who returned from England for the court hearing, do a number of doughnuts on the N22 on a sweeping bend close to Killarney at 1.30am on Sunday.
The other men who pleaded guilty to dangerous driving were Evan Bolger, 26, of Inch Castle, Athy, Co Kildare; Adam Brady, 26, of the Gatekeepers, Burrin Road, Co Carlow; Simon Donegan, 21, of Kilmurry, Feenagh, Co Limerick; Eanna Fleming, 21, Mountain Range, Firies, Co Kerry; Paul Mannion, 25, Cuilmore, Bealnamulla, Roscommon; William McCarthy, 21, Knocknaboul, Coachford, Co Cork and Michael Keating, 24, Carrigeen, Camas, Bruff, Co Limerick.
All 12 were fined amounts between €300 and €500, disqualified from driving for two years, and had recognisances set in the event of an appeal to the Circuit Court.
Two others had their cases adjourned and one case was struck out.