An operation has begun to recover 130 cars that have been trapped in the multi-storey car park of Douglas Village Shopping Centre since a fire there at the weekend.
Most of those cars are believed to be undamaged and will be returned to their owners, but another 60 vehicles were destroyed in the blaze.
The first movement of trapped cars from Douglas Village Shopping Centre came by air and ahead of schedule at lunchtime.
The cars are being recovered one-by-one, using a crane to lower them to the ground before they are removed to a nearby compound, assessed for damage and returned to their owners.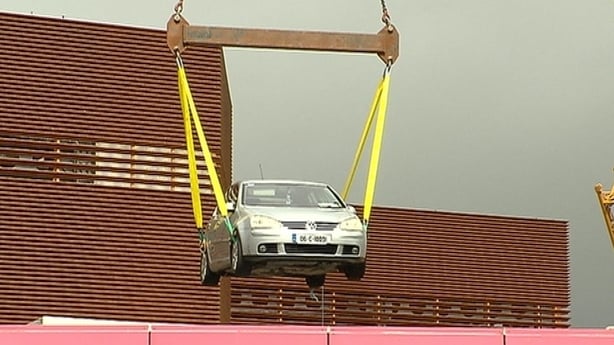 George Finn from Douglas in Cork was one of the first to be re-united with his car this afternoon.
He told RTÉ News his 181-registered Ford S-Max looked fine and did not appear to be damaged.
Mr Finn also paid tribute to gardaí and firefighters who recovered four tickets for Sunday's All-Ireland football final from his car after he was forced to abandon it on Saturday evening.
For others, the wait went on this afternoon.
Maeve O'Connell from Goleen in west Cork parked her car in the first floor of the car park minutes before the blaze broke out.
She said she was hoping her car would be returned to her undamaged.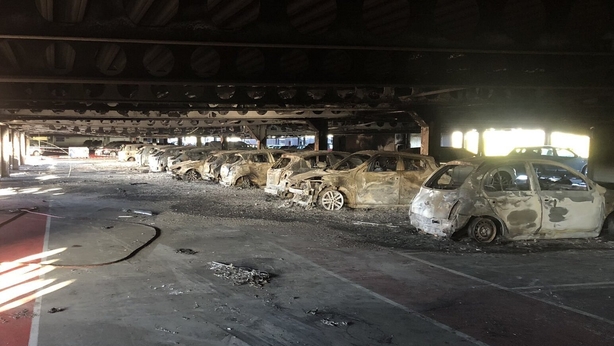 Pat Hannon from Douglas in Cork parked 60 metres away from where the fire started.
He too was waiting for news at the shopping centre this afternoon.
In Douglas, Peter Collins' bar/restaurant was closed for four months when the village flooded in 2012.
He empathises with his neighbours in the nearby shopping centre and said the worst part of it was the uncertainty.
There may be some good news.
It had been anticipated that the removal of cars from the car park and return to their owners would take up to a week, but that appears to be going smoothly and may take a lot less time.